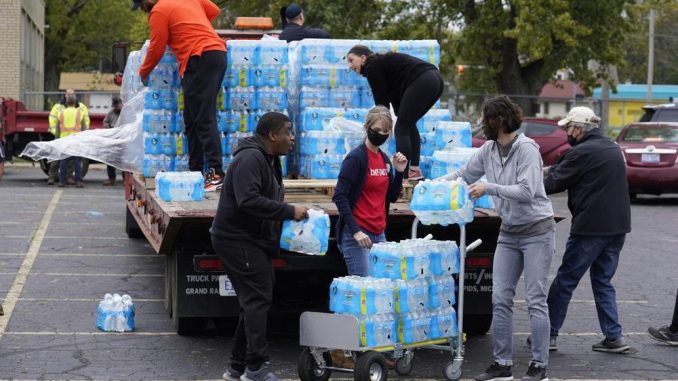 OAN Newsroom
UPDATED 6:43 PM PT – Thursday, November 4, 2021
Residents in Benton Harbor, Michigan have been advised to drink and cook with bottled water due to alarming levels of lead found in the city's water system. For the past three years, the city detected elevated levels of lead in their water system and with a water main rupturing Thursday, the city was forced to temporarily shut off the public water supply altogether.
Michigan Gov. Gretchen Whitmer (D) issued an executive directive the same day to address drinking water safety and previously promised to allocate millions of dollars to replace the city's lead service lines, although it could take decades to replace.
"We have to replace the pipes," stated the superintendent of Benton Harbor area schools Andrae Townsel. "It's plain and simple. Pipes need to be replaced. Once we replace it, we can drink this fresh, tasty, beautiful water, you know?"
Gov. Whitmer announced a six-step plan to help prevent residents from consuming potentially hazardous water and said her first priority is getting clean water for everyone in Michigan. However, the state already experienced a similar crisis in Flint, Michigan causing people to wonder why this recurring problem isn't being fixed sooner if Whitmer claims it's her top priority.
Advisory: EGLE provides 11,000 pages of data, documents related to Benton Harbor drinking water: https://t.co/WhuXvm3tE7

— Michigan EGLE (@MichiganEGLE) November 4, 2021
Families in Benton Harbor say waiting in lines for cases of water is time consuming and also question what it means for their health since the issue has been ongoing.
"We need all the help we can get, all the water we can get right now, because like I said, we don't know how this is going to end up," stressed volunteer, Willie Davis.
For now, residents have been advised to continue cooking and drinking only from bottled water as part of the governor's initiative. In addition, residents have resorted to even filling their toilets with the provided water in order to be able to flush.
Meanwhile, the county sheriff said this isn't just a problem for Benton Harbor, but for the entire country.
"Cities are getting old, and we put lead pipes in a long time ago. So, this is not going to just happen here. It's going to happen across the country," said Sheriff Paul Bailey. "These lead pipes are going to have to be replaced."