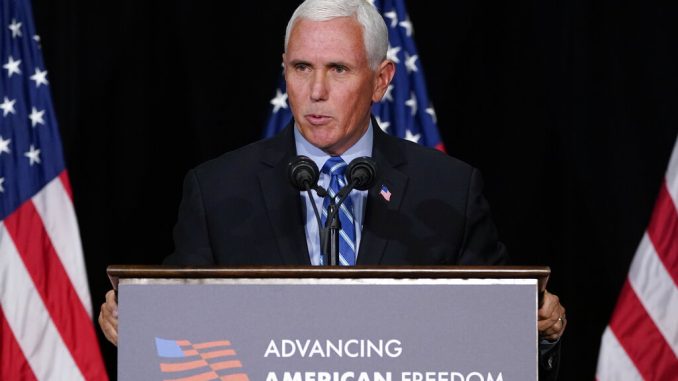 OAN Newsroom
UPDATED 9:32 AM PT – Friday, October 29, 2021
Former Vice President Mike Pence recently addressed the concerns of parents in Virginia over critical race theory being taught in public schools. While speaking Thursday at Patrick Henry College in Virginia, he said Loudon County has become the epicenter of a powerful school movement that has polarized the education system.
"A movement of concerned parents and patriotic citizens demanding an end to curriculums that divide our nations," Pence stated. "And accountability for educational bureaucrats who put political correctness ahead of the interest our kids."
Pence's speech came just one week after an alleged sexual assault at Stone Bridge High School emerged following an apparent cover-up to mask apparent shortcomings of Louden County's transgender bathroom policies.
What happened at Stone Bridge High School is a travesty and a disgrace. I commend the parents who spoke out at school board meetings and I commend the students who walked out this week in protest of the school board's gross negligence and dereliction of duty. pic.twitter.com/0ywcTmmqHb

— Mike Pence (@Mike_Pence) October 28, 2021
The former vice president proceeded to condemn Attorney General Merrick Garland's memo regarding school board meetings. Earlier this month, Garland announced the FBI will be investigating potential threats from parents against teachers and school boards over issues like critical race theory curriculum.
Additionally, Pence stressed schools have shifted their focus from what is actually important to educate children. However, he threw his support behind parents and students who demanded the school board take accountability. Pence also commended parents for their dedication to being involved in their children's educational lives.
To the Parents, Students and Patriots here in Loudoun County, I came to say Thank You. You have reminded America that these schools are OURS, and public education belongs to the American public! pic.twitter.com/5DMQ3ZcExn

— Mike Pence (@Mike_Pence) October 28, 2021