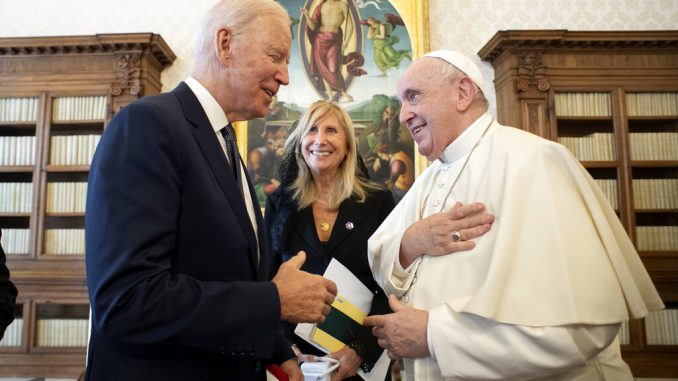 OAN Newsroom
UPDATED 9:46 AM PT – Friday, October 29, 2021
Joe Biden met with Pope Francis at the Vatican on Friday. According to the White House, the pair discussed climate change, poverty and the coronavirus pandemic. Biden praised the Pope as "the most significant warrior for peace" that he's ever met.
"It was an honor to meet with Pope Francis again at the Vatican today," he noted. "I thanked His Holiness for his advocacy for the world's poor and those suffering from hunger, conflict, and persecution. And lauded his leadership in fighting the climate crisis and ending the pandemic."
The two also exchanged presents with the Pope gifting Biden a ceramic tile and papal documents. Biden, on his part, gave the Pope a liturgical vestment from the 1930's, which was held in the archives of his church. He also gave the Pope a coin he said his late son Beau would want him to have.
President Biden gives Pope Francis a presidential challenge coin at the Vatican.

"If next time I see you and you don't have it, you have to buy the drinks."

Full video: https://t.co/B5Qp6XyhtV pic.twitter.com/kJoZNJVwb6

— CSPAN (@cspan) October 29, 2021
This was the fourth meeting ever between the Pope and Biden who's the nation's second-ever Catholic president.