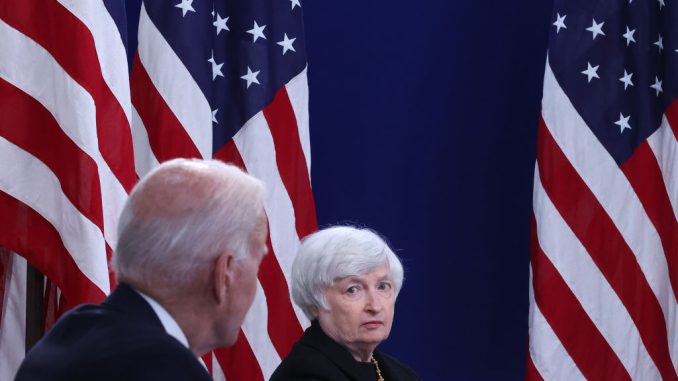 OAN Newsroom
UPDATED 10:54 AM PT – Monday, October 25, 2021
Treasury Secretary Janet Yellen says she expects inflation levels to go back to normal in 2022.
Despite inflation growing at its fastest rate in 30 years, Yellen believes the U.S. government has it under control. During an interview on Sunday, the 75-year-old said she expects inflation levels to return to normal within the next year even if Democrats obtain their so-called Build Back Better Bill, spending trillions more.
"Well, the additional spending in the infrastructure package, and in the Build Back Better package, both of those are spending over ten years, not in a single year. The rescue package did involve substantial spending this year," said Yellen.
She added how the rescue package helped decrease unemployment to 4.8 percent and blamed the decline in the size of the labor force on the pandemic. Although the price of fuel has only increased, she mentioned monthly rates of inflation have already fallen substantially and thinks the economy will bounce back no later than the end of 2022.
Biden Treasury Secretary Janet Yellen says rising prices will continue until "the end of next year."

In July, Yellen said it would only last "several months." pic.twitter.com/W4GjxUCdmM

— RNC Research (@RNCResearch) October 24, 2021
On the contrary, former treasury secretary under the Obama administration, Larry Summers, said these numbers are very concerning, especially since its not just gas prices seeing an increase.
However, Yellen has continued to downplay concerns over rising inflation and has insisted prices of goods will decrease. Additionally, she said Americans will find jobs to be able to return to a normal life.
Although, with the entire country being impacted, politicians are seeing their states suffer daily. The left's constant push to pass the trillion-dollar social spending package has leaders worried about the future cost of living for Americans.
"The greatest concern that Americans have right now is the rising cost of fuel, gasoline, and groceries. And whenever you hear Speaker Pelosi talk about the trillion-dollar package, it hasn't been written, it can't be explained," said Gov. Asa Hutchinson (R-Ark.).
Meanwhile, Joe Biden said he was considering deploying the National Guard to help curb the supply chain crisis, but White House officials said this isn't something that is currently being considered.