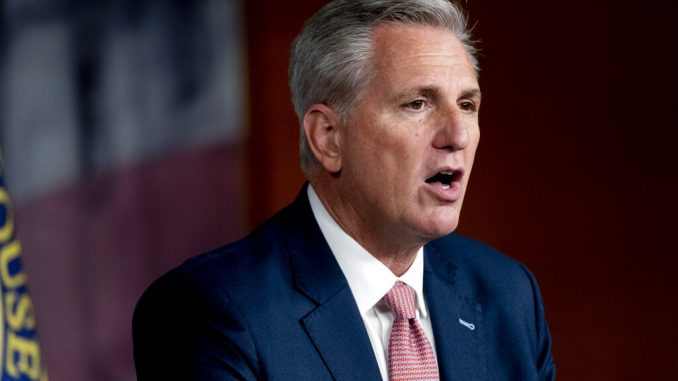 OAN Newsroom
UPDATED 8:37 AM PT – Friday, October 22, 2021
House Minority Leader Kevin McCarthy (R-Calif.) has accused the partisan January 6 committee of making politically motivated actions. He asserted the subpoena for former White House strategist Steve Bannon is invalid.
While speaking from a Capitol Hill press conference on Thursday, McCarthy said this is the latest attempt by Democrats to silence conservatives. However, shortly after his remarks, the House's majority decision gave the controversial subpoena the green-light.
.@GOPLeader Kevin McCarthy on @January6thCmte holding Steve Bannon in contempt for defying a subpoena: "They're issuing an invalid subpoena." pic.twitter.com/329iPWqNl3

— CSPAN (@cspan) October 21, 2021
Bannon is under scrutiny because his lawyer told the January 6 committee he would not comply with their subpoena, saying he had the right to withhold confidential information as a White House official. According to McCarthy, the January 6 panel's refusal to first let him defend his claim in court exposes dark intentions.
McCarthy suggested cases like Bannon's are why Republicans have called for a balanced panel since the beginning. The committee has seven Democrats and just two anti-Trump Republicans, all hand-picked by House Speaker Nancy Pelosi (D-Calif.).
McCarthy went on to say the committee's focus on targeting political opponents is very different from what they promised it to be earlier this year. Regardless, Bannon's case is now heading to the U.S. Attorney's Office in Washington and it will be up to prosecutors to present it to a grand jury for possible criminal charges.