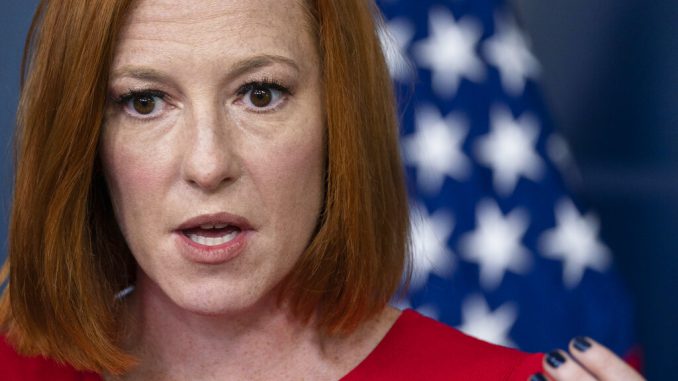 OAN Newsroom
UPDATED 8:19 AM PT – Wednesday, October 20, 2021
"The tragedy of the treadmill that's delayed."

— Jen Psaki, White House Press Secretary
White House Press Secretary Jen Psaki recently downplayed the supply chain crisis as a "tragedy of the treadmill." She made those remarks during a press briefing Tuesday in response to a question over why Joe Biden didn't act sooner to address the supply crisis.
The press secretary was specifically asked why Biden had not anticipated a shipping crisis rather than reacting to a problem allowed to reach critical mass. Psaki, however, wanted to make it clear the Biden administration was well ahead of the curve.
"Well, that's not actually true, the President formed a task force at the very beginning of the administration and what we know for the global supply chain issues is that they are multifaceted," she stated. "Right now, we've been focusing on the ports and issues at the ports. And what leaders at these ports will tell you is that they've seen an increase in volume dramatically as it relates to last year, a year ago."
The former CNN contributor also wanted to illustrate the role COVID-19 played in creating the supply calamity.
"One of them (reasons) is the fact that manufacturing sites around the world have been shut down because of COVID," Psaki continued. "We've been working to be the largest supplier of COVID vaccines to countries around the world for a range of reasons. It's morally right, but also to help address those global supply chain issues and the impact manufacturing and the slowdown in manufacturing can have."
The press secretary went on to point to the truck driver shortage in the U.S. having been an issue for the entire year and said the administration would be working with unions to hire more shipping employees.
A very large reason for the supply chain crisis, according to Psaki, is the success of the Biden administration's economic policies.
"As the economy is turned back on, more people had expendable income, wages, to buy more goods,' she explained. "More people are buying more goods. People have started to also buy more things online than going into stores and so, that is also impacting the volume and there's a need for more."
This comes as cargo is backed-up at our nations' ports with major doubts being raised as to whether shoppers will receive their holiday gifts on time. As many experts point out, however, there are many essential goods which are also facing major delays, including refrigerators and dishwashers.
The White House is considering utilizing the National Guard to help alleviate supply line congestion.