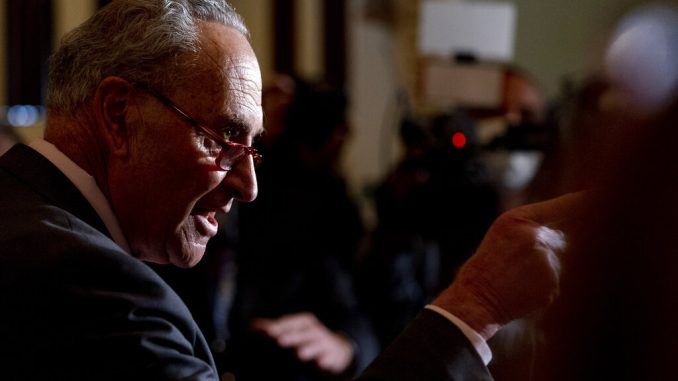 OAN Newsroom
UPDATED 7:46 AM PT – Wednesday, October 20, 2021
Senate Majority Leader Chuck Schumer has continued his push to federalize America's election system. The New York Democrat plans to begin debate on the Freedom to Vote Act on Wednesday.
Last night, I began the process for the Senate to hold a vote on the Freedom to Vote Act.

It would fortify our democracy, protect the vote, and renew the American people's trust in our elections.

The Senate will vote tomorrow on moving forward on this bill.

— Chuck Schumer (@SenSchumer) October 19, 2021
The act is similar to the failed For the People Act, though it includes voter ID compromises for West Virginia Democrat Joe Manchin. Schumer's latest proposal would take away a state's right to map out their own congressional districts and allow for mass mail-in balloting nationwide. While many say it' s a Democrat wish list, Schumer has called it a compromise.
"This bill is a compromise, but a good one. It's a bill that every Senate Democrat is united behind, enthusiastically. It sets common sense standards to make sure all Americans, no matter what zip code they live in, have the freedom to vote safely, securely."
Many Democrats are pushing even harder to abolish the filibuster over the bill as few, if any, Republicans are expected to support it.
Democrats' election takeover bill would eviscerate state voter ID laws, finance THEIR elections with YOUR tax dollars, and force states to let violent felons vote.

They absurdly call it the "Freedom to Vote Act" … It should be called the "Freedom To Cheat Act"!

— Ronna McDaniel (@GOPChairwoman) October 19, 2021