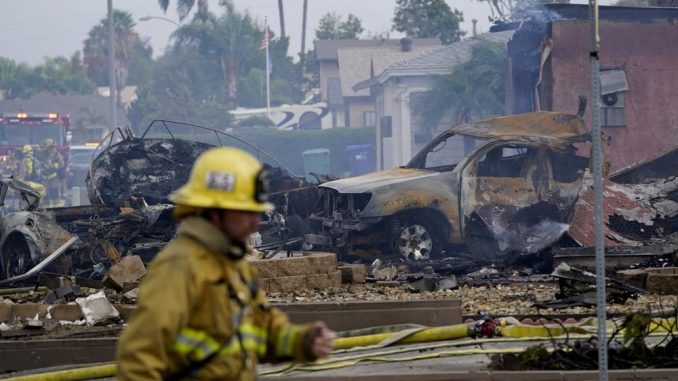 OAN Newsroom
UPDATED 7:51 PM PT – Monday, October 11, 2021
At least two people have died after a small airplane crashed in a residential neighborhood in Southern California. According to reports, the plane heading to San Diego from Yuma, Arizona crashed into a UPS truck near Santana High School in Santee on Monday.
The plane was owned and piloted by local cardiologist Dr. Sugata Das, who reportedly lived in San Diego, but flew back and forth from his work at the Yuma Regional Medical Center in Arizona. At least two people were rushed to the hospital in connection to the crash.
The resulting blast sparked two severe house fires nearby. Authorities have asked residents to avoid the area as they investigate the scene.
"The number of houses that have been damaged at this point, we have two that are complete loss, and you can see from behind us those are the ones that are completely burned that fire crews are still trying to mitigate some of the smoldering ash," explained explained Deputy Fire Chief Justin Matsushita of Santee Fire Department. "…A debris field that is almost a block as far as length, and we have parts of the actual airplane strewn across at least 10 homes and into some of the streets."
UPDATE 10/11 2:30 – What we know: the plane was a C340 Twin engine Cessna. Two fatalities have been confirmed at this time, two victims were transported to the hospital, condition unknown. Power has been turned off in the immediate neighborhood. Debris field spans approx. 1 block

— City of Santee (@CityofSantee) October 11, 2021
More information on the crash will be provided as it is released.