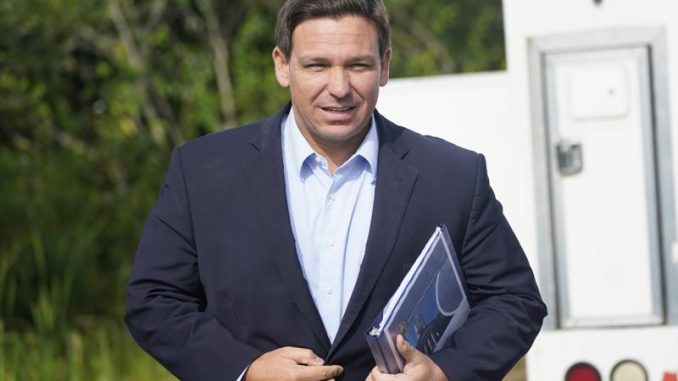 OAN Newsroom
UPDATED 3:05 PM PT – Monday, October 11, 2021
Florida Gov. Ron DeSantis (R) announced a new push to support infrastructure, education and job growth in the Sunshine State. In a press conference in Winter Haven, Florida on Monday, the Republican governor announced the city would receive $9.4 million in new funding amid it's rapid population growth.
"Winter Haven is a great community. It's a very fast-growing community," he stated. "In fact, the census data showed, if you include the whole Lakeland, Winter haven metro area, it was tied for second highest rate of growth in the nation between 2019 and 2020."
Winter Haven is receiving more than $9 million in funds to improve its infrastructure and create 1,250 new jobs.

This will be a high-impact project that will spur additional investment in Central Florida. pic.twitter.com/9kxQCV5ShB

— Ron DeSantis (@GovRonDeSantis) October 11, 2021
DeSantis noted $6.4 million of the funding would come from the state's job growth grant fund, while the Florida Department of Transportation would provide an additional $3 million.
"We see opportunities to really capitalize on a lot of momentum we have," he explained. "Of course throughout the whole state of Florida, but particularly in this critical central Florida region, we want to take advantage of that."
As part of the move, the state would also be implementing fiber optic cables to bring high-speed internet to the area in an effort to make it more attractive for companies to invest in. DeSantis then touted the state's economic success, despite the effects of the pandemic, by asserting the state had faired far better than many of its counterparts.
He went on to say, "we perform higher than the national average on virtually any economic metric that you could think of, lower unemployment, of course if you look at the folks that have brought businesses here, we've obviously attracted way more businesses than we've repelled."
Governor Ron DeSantis announces a Job Growth Grant Fund award in Winter Haven.
Watch Live: https://t.co/DPB8mIaI1n

— Ron DeSantis (@GovRonDeSantis) October 11, 2021
The governor said the state had implemented economic policies, which attracted economic growth unlike many state's nationwide. Later on in this press conference, DeSantis warned of the effects of inflation on a national scale by saying the Biden administration lied to the people about the inflation being a transitory effect.
"If you look at what's happening overall on the national level with the economy, this inflation is real. They tried to act like it was not something to worry about, that it was transitory, but in fact you're seeing it permeate across all sectors of the economy," he asserted. "I'm really worried about gas prices going up, which could really hammer a lot of Floridians who have to commute to work everyday."
DeSantis asserted the prices at the pump could remain for awhile and added the White House shutting down oil pipelines was a far bigger problem. He also touted the state's education system by saying it offered vocational training, skills-based development and high quality education without forcing residents to go deep into dept.