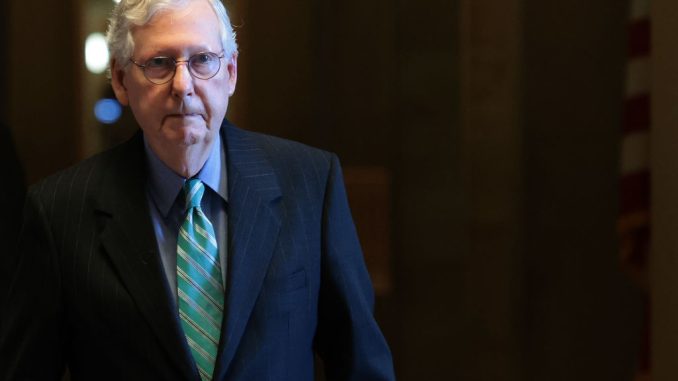 OAN Newsroom
UPDATED 7:58 AM PT – Saturday, October 9, 2021
Senate Minority Leader Mitch McConnell (R-Ky.) said his vote to raise the debt ceiling was the only win he plans to give Joe Biden.
In a letter sent to Biden on Friday, McConnell stressed Republicans filled the leadership vacuum, adding Democrats had nearly three months to work out a funding bill both parties could get behind. He then criticized Sen. Chuck Schumer (D-N.Y.), claiming his behavior on the Senate floor was corrosive, partisan and childish.
"Last night, in a bizarre spectacle, Senator Schumer exploded in a rant that was so partisan, angry and corrosive that even Democratic senators were visibly embarrassed by him and for him," McConnell said, referencing a moment during Schumer's speech where Democrat Sen. Joe Manchin (W.Va.) appeared to hold his hands over his face. "This tantrum encapsulated and escalated a pattern of angry incompetence from Senator Schumer."
My letter to President Biden on the debt limit: pic.twitter.com/H1tDXHl07a

— Leader McConnell (@LeaderMcConnell) October 8, 2021
On Thursday, 11 GOP senators voted with Democrats to pass the temporary debt ceiling extension after several months of battling over how to fund the government. McConnell warned Republicans won't swoop in to save the federal government, claiming he would "not be party to any future effort to mitigate the consequences of Democratic mismanagement."