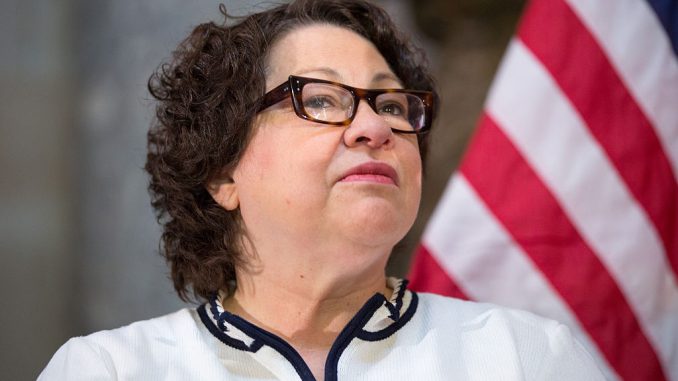 OAN Newsroom
UPDATED 8:22 AM PT – Saturday, October 2, 2021
Supreme Court Justice Sonia Sotomayor denied a request by New York City teachers to stop a COVID-19 vaccine mandate for their profession. The Obama appointee blocked the request made public school educators on Friday.
As the overseer of the United States Court of Appeals 2nd circuit, Sotomayor has the authority to be the sole respondent to emergency applications. No lower courts blocked the measure, which allowed it to trickle up to the Supreme Court.
New York City public schools had given staff until 5 p.m. on October 1 to be vaccinated.
"Get vaccinated, single dose, you're done. Get the second dose on time later on, but for the purpose of continuity, one dose by Friday 5 o'clock and you're in come to work Monday," stated Mayor Bill de Blasio (D), New York City. "If you have not gotten that first dose by Friday 5 o'clock, we will assume you are not coming into work on Monday and you will not be paid starting Monday."
NEWS: Justice Sonia Sotomayor has denied the request for an emergency injunction against @NYCSchools vaccine mandate. We were at 90% employees vaccinated today, will share final numbers Monday!

— Danielle Filson (@DanielleFilson) October 1, 2021
Teachers have not been the only target of city and state vaccination efforts. New York Gov. Kathy Hochul (D) voiced her intention to vaccinate school-aged children in a press conference on Thursday.
"What are you waiting for? Your kids need this. You're kids needed this vaccination in order to enter kindergarten," she asserted. "…There's a lot of other ways we can protect our children and I really am just beseeching parents to do what's right for their kids and not let them be one of those children who end up in a serious condition in a hospital."
Due to the justice's decision, almost 150,000 thousand unvaccinated employees could face suspension without pay until September 2022. Elementary school teacher Roxanne Rizzi voiced her frustrations on how callously she and her fellow educators were tossed aside.
"I've been in school this whole time. All of a sudden, at some arbitrary date, I become a danger to the children? No, okay, just they're going to bring in substitute teachers," she expressed. "I'll tell you what would be a danger to the children bringing in subs that don't know the children."
Considering the science & data, vaccines widely available for teachers & other staff, treatment & testing getting better, & other mitigation measures in effect, California is wrong to press forward with a COVID vax mandate on kids. New York should absolutely NOT follow suit!

— Lee Zeldin (@RepLeeZeldin) October 1, 2021
Several teachers attempted to petition the court by claiming they were not given due process and equal protection rights. Justice Sotomayor has yet to release a statement on her ruling.
Her decision mirrors that of fellow Justice Amy Coney Barrett, who denied an emergency appeal against Indiana University's mandatory student vaccination. According to De Blasio (D), 93 percent of New York City teachers are currently vaccinated.