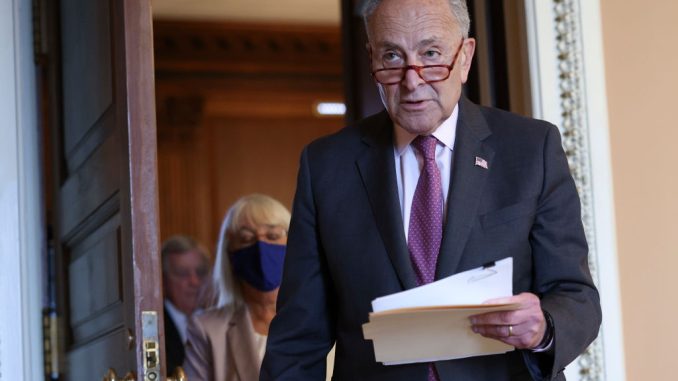 OAN Newsroom
UPDATED 3:15 PM PT – Wednesday, September 29, 2021
Senate Majority Leader Chuck Schumer (D-N.Y.) says the Senate is looking to take action in order to keep the government funded and running. On Wednesday, Schumer announced plans to introduce a continuing resolution, or stopgap bill, that would keep the government funded through early December.
He noted the bill would include funding for natural disaster relief and helping resettle Afghan refugees. Schumer said even once the government is funded, the issue of the debt ceiling would still need to be addressed.
"With so many critical issues to address, the last thing the American people need right now is a government shutdown," said Schumer. "This proposal will prevent one from happening, and I want to thank my colleagues who are working quickly to prepare this legislation."
Senate Democrats are introducing a Continuing Resolution to keep the government open, provide long-sought emergency funding to help Americans still reeling from natural disasters, and provide funding to help re-settle Afghan refugees.

We'll work to get it done.

— Chuck Schumer (@SenSchumer) September 29, 2021
Republicans have indicated they would support a "clean" resolution that doesn't include a debt limit provision. However, it's unclear how soon the vote could come. Meanwhile, funding is set to expire at midnight on Thursday.