Sadiq Khan was re-elected as Mayor of London, it was announced at 11.p.m on Saturday.
While the victory of the Labour incumbent was widely expected, it was won by a smaller margin than anticipated.
After counting second preferences, Khan received 55.2 percent of the vote (1,206,034), while Conservative candidate Shaun Bailey got 44.8 percent (977,601). Earlier polls suggested Bailey would be a distant second in the race.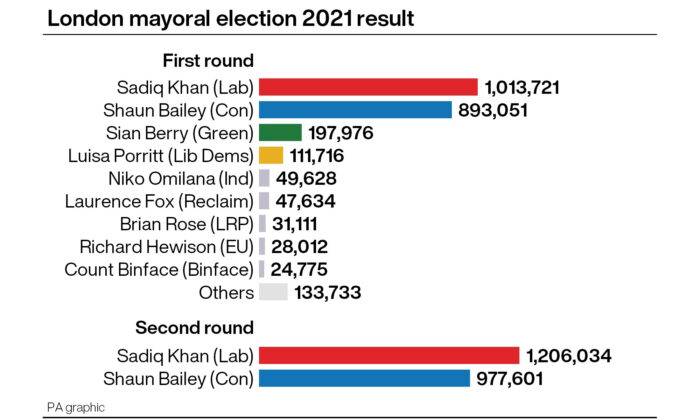 Khan's re-election and the re-election of Labour mayors in Manchester, Liverpool, Salford, and Bristol came after a bruising set of results for Labour in local elections in its former heartlands in central and northern England—known as the party's "Red Wall"—which followed a disastrous performance in the 2019 national vote.
In his victory speech from City Hall, Khan said he was "deeply humbled" to be re-elected as mayor, and pledged to make London "brighter, greener, and more equal."
"I am deeply humbled by the trust Londoners have placed in me to continue leading the greatest city on earth," Khan said after being re-elected.
"It's in this spirit that I promise to lead London over the next three years, building bridges between the different communities in our city, building bridges across cultural, social, and class divides," he said.
Khan said he will "building bridges between London and the rest of the country," and between City Hall and the Government "because we must all work together to build a brighter, greener, and more equal future for London, and for our entire country, after the pandemic," he said.
It comes after often frosty relations between Khan and the Government, including a recent row with Prime Minister Boris Johnson, his predecessor as mayor, over Transport for London's finances.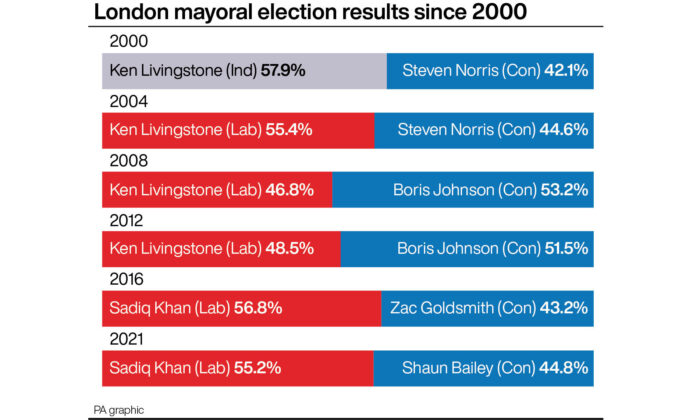 During his first term, Khan faced criticism over rising violent crime in the capital, particularly stabbings involving teenagers. His record on the issue and other security issues at the time led to a series of Twitter spats with U.S. President Donald Trump.
While Johnson has enjoyed wide success elsewhere in England, the opposition party has become increasingly dominant in the British capital.
Analysts attribute this to the city's younger, more ethnically diverse, and more pro-European Union population, which unlike most of England, overwhelmingly opposed Brexit.
In a speech from City Hall, Conservative candidate Bailey said the close race showed that Londoners have not written him off, as he said pollsters and journalists did.
"As I went through these, for me what was two years of campaigning, one feeling felt familiar to me, one challenge had always felt the same," he said.
"And that was the feeling of being written off—by pollsters, by journalists, by fellow politicians. But it's no surprise to me that Londoners didn't write me off," Bailey said.
PA and Reuters contributed to this report.