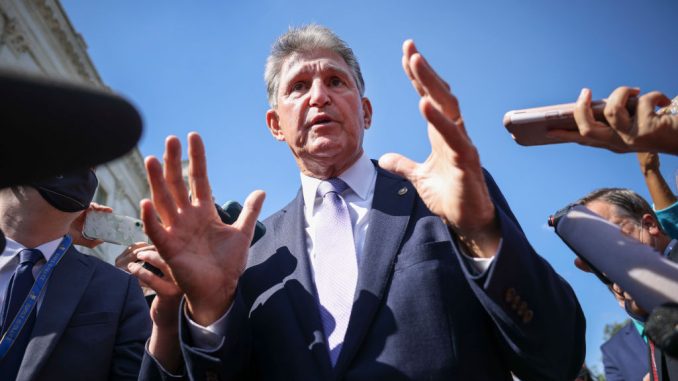 OAN Newsroom
UPDATED 3:15 PM PT – Thursday, September 30, 2021
Sen. Joe Manchin (D-W.Va.) reiterated he would not support any Democrat spending plans that go above $1.5 trillion. The senator from West Virginia told reporters on Thursday the plan by his fellow Democrats to spend $3.5 trillion is unsustainable. He added the U.S. simply can't afford it.
Manchin's remarks come despite pressure by top Democrats and mainstream media. The senator said he would stand firm in order not to bankrupt the U.S.
"My top line has been $1.5 [trillion] because I believe in my heart that's what we can do and what the needs we have now, and what we can afford to do, without basically changing our whole society to an entitlement mentality. And the other piece of legislation, which they have, which is the reconciliation bill, we can maybe work something out," said Manchin.
My statement on infrastructure and reconciliation negotiations: https://t.co/ivdAUn9Mdh pic.twitter.com/6Y6ATeH8DR

— Senator Joe Manchin (@Sen_JoeManchin) September 29, 2021
Manchin went on to say finalizing the talks on spending packages would take some time despite calls to hurry up by the Biden administration. The senator suggested he understood some lawmakers would be disappointed by his decision to stand strong on his opposition, but noted he has different views from others.