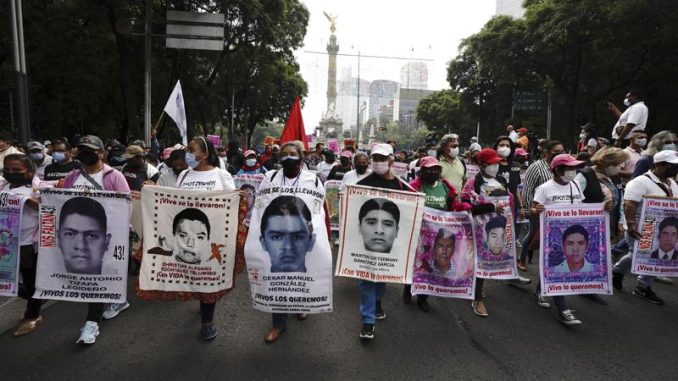 OAN Newsroom
UPDATED 9:04 AM PT – Monday, September 27, 2021
Hundreds of protesters rallied in Mexico to commemorate seven years since the suspected massacre of dozens of students. On Sunday, relatives and friends of the 43 missing students marched through the center of Mexico City.
Demonstrators held up photos of student teachers who went missing after being stopped by police on their way to attend a protest in the southern city of Iguala seven years ago.
The Mexican government alleges corrupt police handed over the students to drug cartel members who incinerated their bodies for potential involvement in a rival gang.
Thousands attended a rally in #MexicoCity on Sunday marking the seventh anniversary of the disappearance of 43 students from the #Ayotzinapa Rural Teachers' College, who went missing in #Iguala in 2014.#Mexico pic.twitter.com/Gl74GEf4IY

— Ruptly (@Ruptly) September 27, 2021
Meanwhile, family members said they remain in high hopes of seeing their loved ones alive again.
"We haven't lost faith as mothers. We have faith that our children will be found, but we aren't the same as when we started this fight. More of us are sick, other parents have passed on. This is all suffering for us as mothers. They say seven years have gone by, but it is a torment that we go through with a heart that has been destroyed."

–Blanca Luz Nava, mother of missing student
Relatives stressed they have yet to receive any type of justice or information. Many have long accused Mexican authorities, including the military, of involvement in the disappearance of the students.