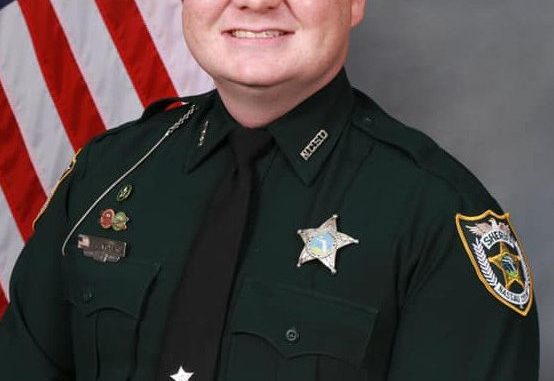 OAN Newsroom
UPDATED 4:00 PM PT – Monday, September 27, 2021
A simple traffic stop turned deadly after a police officer was shot and killed in Florida. The massive manhunt has continued for suspect Patrick McDowell after the 35-year-old allegedly shot the deputy and a K-9 from the Jacksonville Sheriff's office.
On Friday, Deputy Joshua Moyers noticed something out of the ordinary and pulled over the vehicle McDowell was driving after he realized the tags did not match up to the car. Moyers proceeded to do what many would in his situation.
"Asked him if he had any weapons inside, asked him if he would please step out. The deputy went to grab the handle of the door to open it," explained Nassau County Sheriff Bill Leeper. "The drivers arm came out of the vehicle with a handgun and shot the deputy one time right here. As the deputy fell down, he reached out and shot him in the back."
"It is with great sadness that I announce Deputy Josh Moyers has passed away this afternoon, September 26, 2021 at 2:19 PM at UF health in Jacksonville.  Please keep Josh's family and fiancé in your thoughts and prayers as we navigate this terrible tragedy." Sheriff Bill Leeper

— Nassau County SO (@NCSO_FL) September 26, 2021
Moyers suffered from life threatening injuries and later died on Sunday afternoon. He leaves a fiancé and family behind.
"They were planning their wedding," Leeper stated. "I just ask that everybody please keep them in their prayers."
The suspect has been on the run ever since as hundreds of officers have come together to try and find the man who authorities have been calling dangerous and likely to be armed. However, officials discovered this was the type of mission McDowell was trained for as he served in the military and was a part of Operation Iraqi Freedom.
"He's been in combat, so he's well trained in that. He's well versed in how to survive," noted Charlie Wilkie, former JSO K-9 handler. "That's the downside for us is that he's capable of probably surviving out in that wooded area for a number of days."
The reward is now $54,000 for the capture of Patrick McDowell. McDowell could still be in our area, please don't let your guard down and call us if you see anything out of the ordinary. 904-225-5174.

— Nassau County SO (@NCSO_FL) September 27, 2021
Criminal records have shown McDowell has a past of possessing stolen firearms and according to police, he was driving a stolen car under a false name. One man who spent time with McDowell at the Five Star Veteran Center said he suffered from trauma from his time in the military.
Investigators said they have so far found a flashlight and hat possibly linked to McDowell. They have also recovered a gun that was presumed to have been used to shoot the K-9.
Meanwhile, hundreds of law enforcement officers from more than half a dozen agencies remain on the scene.