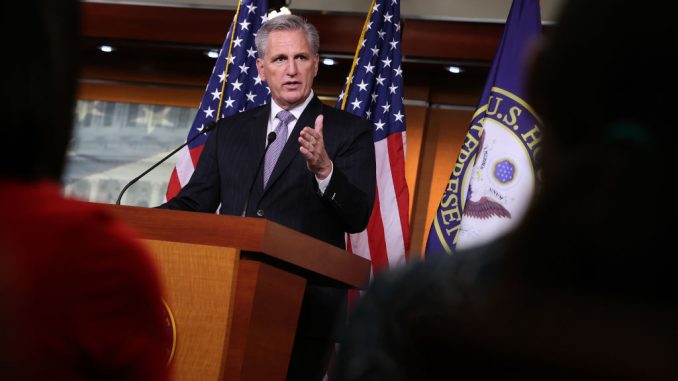 OAN Newsroom
UPDATED 3:03 PM PT – Thursday, September 23, 2021
House Minority Leader Kevin McCarthy (R-Calif.) held a press briefing to discuss the southern border crisis, as well as Democrat's recent spending packages. McCarthy spoke on Capitol Hill on Thursday, questioning Kamala Harris' whereabouts as over 10,000 Haitian migrants camped out at the Del Rio, Texas border in recent days.
He added the situation at the border has only continued to deteriorate as over 1.2 million migrants have been apprehended at the border since Joe Biden took office. Further, for the last two consecutive months illegal migrant encounters reportedly hit more than 200,000, marking a 20-year high.
McCarthy also took aim at congressional Democrats on Capitol Hill saying instead of addressing the concerns that are hurting the economy, they are moving forward with a massive $3.5 trillion spending bill. The Republican House leader has argued the left's spending plans would create greater inflation and add onto existing debt.
"Democrats control every lever of the federal government, but they are acting like powerless bystanders," stated McCarthy.
.@GOPLeader Kevin McCarthy: "I don't view it as a bipartisan bill any longer … I'm voting no."https://t.co/d9RTPvP41Z pic.twitter.com/zmsAGMJVA3

— CSPAN (@cspan) September 23, 2021
He then urged Democrats to fix the nation's problems instead of worsening them, saying never before did he think he would see an administration that would leave Americans behind. McCarthy also said he no longer views the infrastructure deal as a bipartisan bill and has encouraged his members to vote no on the measure.
In the meantime, the House is expected to vote on the infrastructure bill later this month.