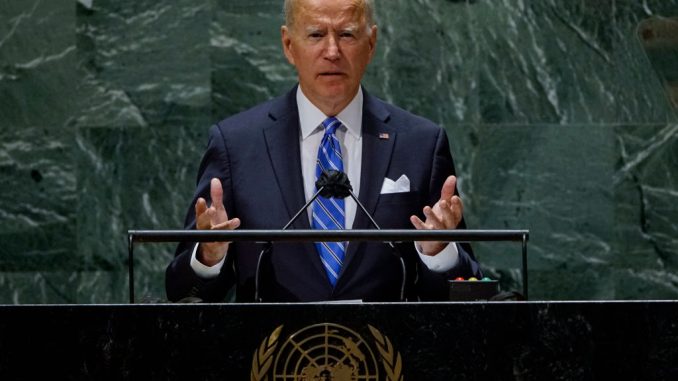 OAN Newsroom
UPDATED 11:44 AM PT – Wednesday, September 22, 2021
Former UN Ambassador Nikki Haley criticized Joe Biden's speech at the UN General Assembly, saying the world knew where the U.S. stood under 45th President Trump. Haley said on Tuesday, under the Biden administration allies don't trust the U.S., while enemies rejoice.
She added Biden ignored the reality of the country's threats and enemies by not mentioning the challenges of China, Russia, Iran, among others. Haley is one of many critics who say Biden failed to show American strength on the international stage, identify many global and domestic crises and tensions with allies.
Joe Biden failed to even utter our greatest national security threat by name today: China.

While he bows to China on climate change, they're committing genocide of the Uyghurs, suppressing Hong Kong, threatening Taiwan, and covering up COVID-19.

He's weak and they know it.

— Nikki Haley (@NikkiHaley) September 21, 2021
During his speech, Biden urged global leaders to come together to fight the world's most pressing problems. The Democrat spoke in front of the UN General Assembly, vowing to restore alliances and spearhead multilateral cooperation.
"As we strive to make lives better, we must work with renewed purpose to end the conflicts that are driving so much pain and hurt around the world," said Biden. "We must redouble our diplomacy and commit to political negotiations, not violence as a tool of first resort."
Biden also discussed mending relations with our adversaries in the Middle East and East Asia. He asserted America's mission is to make sure rouge states, namely Iran and North Korea, don't have access to nuclear weapons.
This comes as this month, the Kim Jong Un regime announced they successfully tested ballistic missiles. Additionally, reports suggested the regime is increasing its development of a top uranium enrichment plant, which could lead to the production of weapons grade uranium.
Meanwhile, the International Atomic Energy Agency has warned against the new hardline regime's nuclear ambitions. IAEA officials have gotten Iran to allow inspections of their nuclear officials, but warned there's still a long way to go in achieving total cooperation.
Here's the issues Joe Biden didn't take seriously enough during his UN speech: China, Russia, Iran, Venezuela, North Korea, and terrorism.

America's enemies won't go away just because Biden chooses to ignore them.

— Stand For America (@standamericanow) September 21, 2021
However, Biden has stressed laying forth a concrete diplomatic framework with tangible commitments will lead to stability.
"We're prepared to return to full compliance if Iran does the same. Similarly, we seek serious and sustained diplomacy to pursue the complete denuclearization of the Korean Peninsula," he said.
In addition, Biden has called on China to relax its tensions with the U.S. He added the age of trade wars, cyber espionage and diplomatic conflict with China is only hurting the international community.
"We are not seeking a new Cold War or a world divided into rigid blocks. The United States is ready to work with any nation that steps up and pursues a peaceful resolution to share challenges even if we have intense disagreements in other areas because we'll all suffer the consequences of our failure," stated Biden.
He concluded his speech by conveying that it's up to the world on what the future will bring and America is already striving to make the world a better place. Although, critics are still skeptical of Biden's follow through on his bold mission statement.
They pointed out his recent spat with the U.S.'s oldest ally, France, after undermining their nuclear submarine deal with Australia by taking it from them. They also said Biden has failed to detail his decisions that led to the crisis in Afghanistan and the deadly aftermath that ensued.