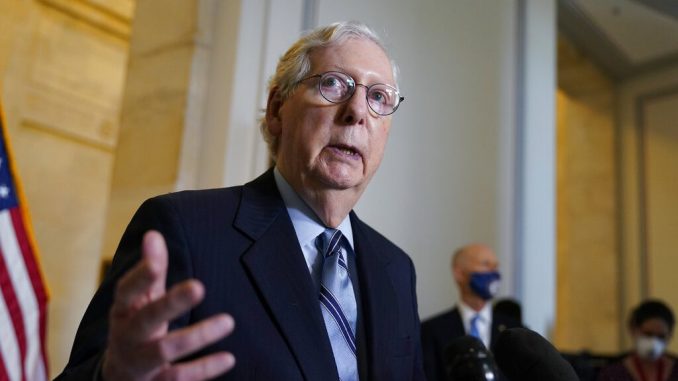 OAN Newsroom
UPDATED 6:55 AM PT – Tuesday, May 11, 2021
Senate Minority Leader Mitch McConnell (R-Ky.) recently took a stand against strategies surrounding the coronavirus. In a speech on the Senate floor Monday, the Republican condemned the current policies of Democrats while suggesting they are untimely.
"It's May of 2021: vaccines are available nationwide, there are millions of jobs open, help wanted signs from coast to coast," he stated. "We should not still be taxing the Americans who are working to fund continued extra benefits for those staying home.'
McConnell pointed to the Biden administration's American Rescue Plan as a bill not suited to solve our current issues.
Vaccines are available nationwide. We have millions of unfilled job openings. It is not fair to keep taxing working Americans to continue paying an extra federal bonus to folks who continue to stay home. And it's holding back our nation's recovery.

— Leader McConnell (@LeaderMcConnell) May 11, 2021
"Back in March, Democrats rammed through their so-called American Rescue Plan with $2 trillion partisan spending spree," he stated. "It is packed with policies that seem designed for March 2020, not March 2021.
As an example, McConnell pointed to the continued use of taxpayer dollars to pay a special bonus for the unemployed to stay home rather than filling one of the country's open jobs. He suggested this plan has resulted in slowed economic recovery as America emerges from the pandemic.
"Republicans had this crazy idea that with vaccines flooding the country, with COVID-19 in retreat, it was time to actually reopen our country," said the Kentucky lawmaker. "Instead of spending even more of working families' tax dollars to keep things shut down."
Specifically, he sighted the poor April jobs report as evidence the administration's policies had failed.
"This report was expected to show that more than a million American workers had gotten back to the job in the month of April," he noted. "Instead, we added about one-fourth that many jobs."
Meanwhile, Joe Biden has continued to point to the bad job numbers as evidence the American Rescue Plan was necessary though hiring numbers were much stronger in march than in April.