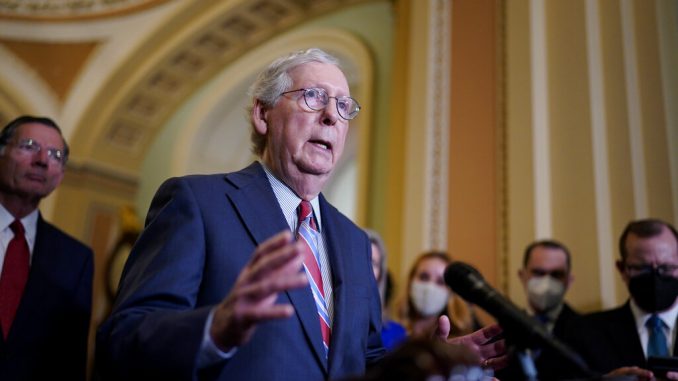 OAN Newsroom
UPDATED 7:31 AM PT – Tuesday, September 21, 2021
Senate Republicans told Democrats if they wish to raise the debt ceiling, they will have do so in purely partisan fashion. Federal government funds will run out by the end of this month if Congress fails to agree on a federal budget.
This impending financial cliff has triggered House Speaker Nancy Pelosi (D-Calif.) and Senate Majority Leader Chuck Schumer (D-N.Y.) to call for the debt ceiling to be raised. However, Senate Minority Leader Mitch McConnell (R-Ky.) has made it clear no Republican in the upper chamber will support the legislation.
"This isn't about the past., it's about the future," said McConnell. "And Democrats want to build a partisan future without our input, so Democrats will not get bipartisan facilitators for their purely partisan spending binge."
The government would not be able to fulfill its financial obligations without taking on more debt. Schumer called the actions of McConnell and Senate Republicans "irresponsible."
"And I think the whole country, including many very conservative elements in the business and finance communities, will be appalled if we get so close to the deadline that Leader McConnell is risking the full faith and credit of the country," said the New York Democrat.
Despite almost no Republican support in the Senate, the Democrat majority has the tools to push the legislation through. Raising the debt ceiling would normally require 60 votes, meaning 10 Republican senators would need to cross party lines.
However, putting the bill under "budget reconciliation" would only require a simple majority for it to pass. The decision to stonewall the bill is less about stopping it and more about principle for the minority leader.
"The Democratic chairman of the House Budget Committee admitted just yesterday, we can do it through reconciliation, but leadership has said they don't want to do that, end quote," stated McConnell. "One party controls the entire government. They have the power to address this alone."
The U.S. currently has a debt ceiling for $28.5 trillion. That ceiling must be raised by October 1 in order for the U.S. government to continue paying upon its financial obligations uninterrupted.