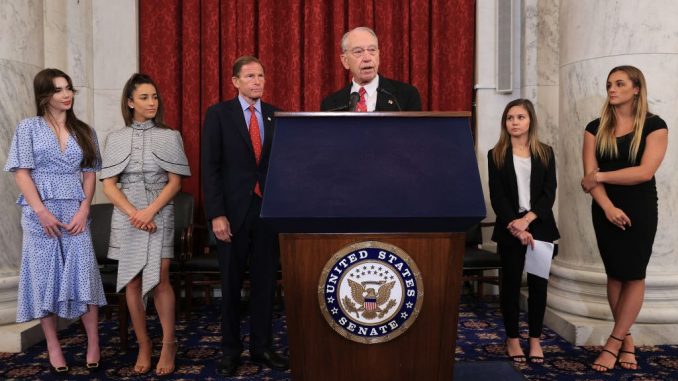 OAN Newsroom
UPDATED 11:24 AM PT – Saturday, September 18, 2021
Iowa Sen. Chuck Grassley (R) has called for a federal investigation into the botched Federal Bureau of Investigation (FBI) probe into disgraced former USA Gymnastics coach Larry Nassar. In a statement on Friday, Grassley implored Attorney General Merrick Garland to assign a federal prosecutor or a special council on the case.
He said the public needs to know what the FBI knew and when they knew it while Nassar sexually abused hundreds of female gymnasts. "These brave gymnasts and all Nassar survivors deserve accountability, especially from the Justice Department," said Grassley as he called upon Garland.
"Attorney General Garland should assign a federal prosecutor or special counsel to uncover what the FBI knew and when, as well as to seek prosecutions of those involved in the cover-up."
Nassar abused hundreds of young athletes while FBI sat on thumb / DOJ refused 2 attend Judic hrg this wk to face questions

AG Garland shld assign fed prosecutor/special counsel 2uncover what FBI knew &when Brave gymnasts+ all Nassar survivors deserve accountability esp from DOJ

— ChuckGrassley (@ChuckGrassley) September 17, 2021
His comments come two days after a Senate judiciary panel heard testimony from multiple U.S. Gymnastics stars over the FBI's handling of its probe into Nassar's misconduct. During the hearing, Aly Raisman called for a "complete and full independent investigation" of the FBI's interactions with USA Gymnastics.
Meanwhile, Nassar is currently serving 100 years in prison relating to sexual abuse.