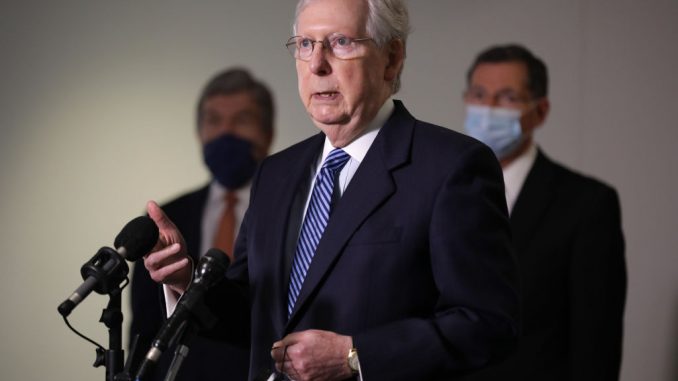 OAN Newsroom
UPDATED 11:15 AM PT – Wednesday, September 15, 2021
Senate Minority Leader Mitch McConnell (R-Ky.) said Republicans will continue to stand against raising the debt limit. McConnell's comments came on Tuesday as many worry if the debt limit is raised it will give Democrats the ability to push through their partisan $3.5 trillion spending package. McConnell said Democrats have continually argued they want to do things without Republican support except when it comes to the debt limit.
While Democrats could raise the debt limit by including legislation in the partisan spending package, Senate Majority Leader Chuck Schumer (D-N.Y.) and House Speaker Nancy Pelosi (D-Calif.) have both opposed the option. Ultimately, meaning the only way Democrats would be able to raise it would be through bipartisan support.
Yet, Democrats have continued to question why Republicans won't agree. However, McConnell said the real issue isn't because it "doesn't need to be done" but rather the extreme spending agenda that's concerning.
"Washington Democrats have spent trillions, trillions of dollars on pet liberal projects. They've been pruning and wasting money like there's no tomorrow and American families are hurting as a result," stressed McConnell.
Join us as the Senate Republican leadership team speaks live with the press.

Tune in here ⤵️ https://t.co/gHCQHdJxQK

— Senate Republicans (@SenateGOP) September 14, 2021
Additionally, Sen. Rick Scott (R-Fla.) has reasserted his opposition to increasing the U.S. national debt, saying American taxpayers aren't willing to pay for it. Scott told reporters on Tuesday that Democrat proposals to buy treasury bonds are foolish amid a stand-off over raising the debt ceiling in Congress.
Scott appeared to suggest U.S. bonds may go down in value due to political uncertainty moving forward. The senator has previously criticized what he called the "reckless tax and spending agenda" by the Democrats. Scott also stressed U.S. taxpayers don't support Democrat fiscal proposals.
"They don't understand why the federal government can continue to just borrow money, borrow money, borrow money, when they can't do it in their own personal lives? And why doesn't the federal government, why doesn't the Biden administration care about this inflation that's happening," said Scott. "Gas prices are up, their food prices are up, their car prices are up, and the Biden administration does nothing about it."
Meanwhile, if funding legislation isn't passed by the end of September the government could face a shut down.