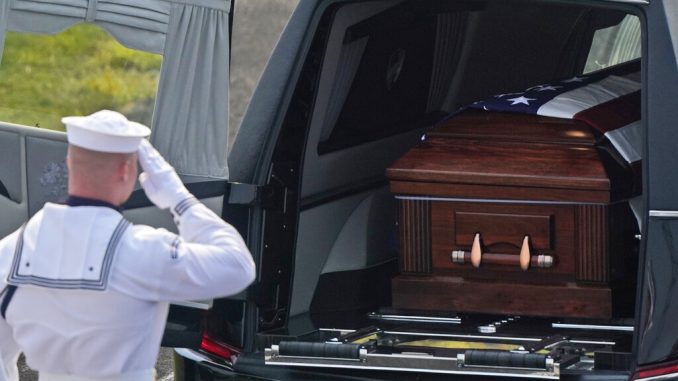 OAN Newsroom
UPDATED 9:26 AM PT – Tuesday, September 14, 2021
Ohio sailor Maxton Soviak, who was killed in last month's suicide bombing at the Kabul airport, was laid to rest in his hometown.
During a funereal service held for the Ohio native at Edison High School's Charger Stadium Monday morning, his sister, Kathleen Soviak, remembered her brother as an adventurer and go getter. Before enlisting in the Navy, the 22-year-old was a member of the state champion wrestling team and made the final four football playoffs two years in a row.
"He threw himself into everything he did with a fierce passion," said Kathleen. "We saw it during his high school years with his sports career and once Maxton became an adult, he developed a passion for living."
She added, her brother spent up to his very last breathe providing aid to those in need and in the end making the ultimate sacrifice.
"In Maxton's final days he spent his time helping others stay alive as he had developed a passion for protecting and saving the lives of others, so much so that he was willing to risk his own life," continued the mourning sister.
#RIP we have the watch. ⚓ 🇺🇸

Hospital Corpsman 3rd Class Maxton W. Soviak arrives at his hometown of Berlin Heights, OH. Soviak was awarded the #PurpleHeart and Fleet Marine Force Corpsman warfare badge for his brave service while deployed to Afghanistan. #RememberTheFallen pic.twitter.com/ZR1MEgybbb

— U.S. Navy (@USNavy) September 12, 2021
Maxton's brother, Brian Soviak, also expressed his deepest remorse while noting despite the tragic loss there's a valuable lesson his heroic brother left to be learned.
"I took for granted that he would always be around," he stated. "That's one takeaway I have from this experience, is to give as much love as you can and to forgive quickly. Max lived his life that way."
Maxton leaves behind 12 brothers and sisters. In honor of his actions, the Navy posthumously promoted him to a Hospital Corpsman Third Class earlier this month. He was also awarded the Purple Heart and Fleet Marine Force Corpsman Warfare Badge.