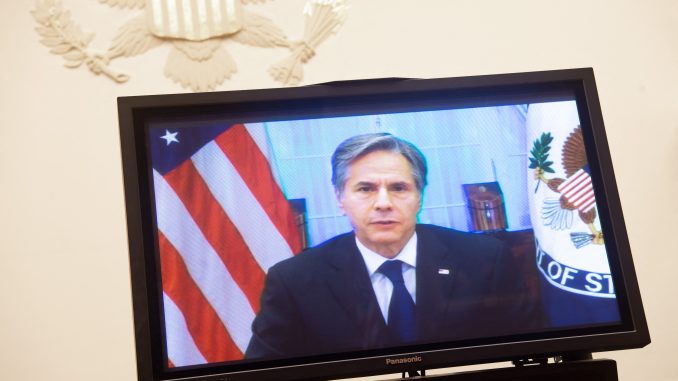 OAN Newsroom
UPDATED 8:02 PM PT – Monday, September 13, 2021
Secretary of State Antony Blinken made his first of two scheduled appearances before Congress this week over the Afghan withdrawal. Blinken was grilled on Monday by the House Foreign Affairs Committee over the policy and Intelligence failures leading to the deadly pullout from Afghanistan last month.
This has made Blinken the first Biden administration official to testify before Congress on the exit from the country. In his opening statement, ranking Foreign Affairs Committee Republican Rep. Michael McCaul (Texas) criticized the Biden administration over what he called its unconditional surrender to the Taliban after a 20-year war.
"This was an unmitigated disaster of epic proportions," he asserted. "I never thought in my lifetime that I would see an unconditional surrender to the Taliban."
"This was an unmitigated disaster of epic proportions. I never thought in my lifetime that I would see an unconditional surrender to the Taliban." – @RepMcCaul on President Biden's disastrous withdrawal from Afghanistan pic.twitter.com/fc3WIO7wup

— House Republicans (@HouseGOP) September 13, 2021
McCaul added this withdrawal has only worked to make our enemies stronger and was a disgrace to the American people.
"Mr. Secretary, the American people don't like to lose, especially not to the terrorists," he stated. "That is exactly what has happened."
During his opening testimony, Blinken attempted to defend the deadly pullout, which led to the death of 13 U.S. service members, by saying Intel assessments did not show the Afghan government would fall as quickly as it did.
"Even the most pessimistic assessments did not predict that government forces in Kabul would collapse while U.S. forces remained," he explained. "As General Milley, the Chairman of the Joint Chiefs of Staff, has said, nothing I or anyone else saw indicated a collapse of this army and this government in 11 days."
"Two days ago, we commemorated the 20th anniversary of September 11th. While we mourned the loss of almost 3,000 innocent people, the #Taliban at the same time celebrated by raising their flag over the Presidential Palace.

— House Foreign Affairs GOP (@HouseForeignGOP) September 13, 2021
Republicans also took aim at Blinken over the State Department's role in evacuating refugees from the country. Blinken sidestepped a question over just how many Afghans, who did not qualify for special immigrant visas, have been allowed to enter the U.S.
Rep. Scott Perry (R-Penn.): "How many Afghans, not meeting the qualifications of SIV have been brought to the United States?"
Blinken: "We're in the process now going through."
When asked by New Jersey Rep. Chris Smith (R) whether he could assure that Americans still stuck in Afghanistan haven't been killed or mistreated by the Taliban, Blinken said he could not.
"I have not heard from those people that concern raised," he stated. "I can't say whether there are any American citizens, who are not in contact with or don't know of, who may have been mistreated in some fashion in Afghanistan."
The secretary of state is now scheduled to testify before the Senate Foreign Affairs Committee on Tuesday.