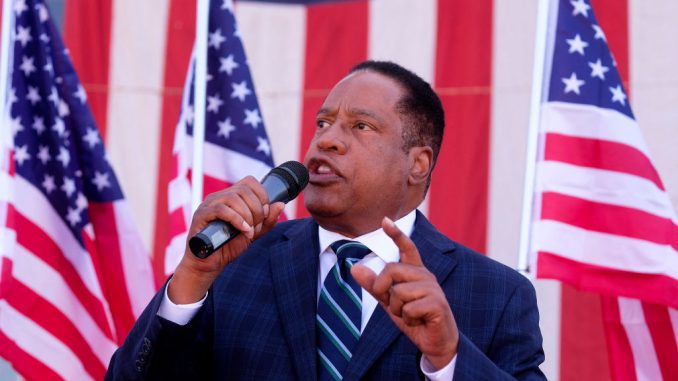 OAN Newsroom
UPDATED 8:37 AM PT – Friday, September 10, 2021
California gubernatorial candidate Larry Elder responds to a hateful attack against him by a woman wearing a gorilla mask while on a campaign stop. In an interview on Thursday, Elder said if he were a liberal and attacked by a white woman, the left would be screaming about systemic racism.
In a separate tweet, he stressed "the intolerant left will not stop us" from recalling embattled Gov. Gavin Newsom (D-Calif.). Elder pointed out the incident was much worse than it seems because his staffers were also allegedly attacked.
Today I kicked off the Recall Express bus tour. Before we even left Los Angeles, my security detail was physically assaulted, shot with a pellet gun, and hit with projectiles. The intolerant left will not stop us. We will recall Gavin Newsom. We will save California.

— Larry Elder (@larryelder) September 9, 2021
Additionally, Elder said the attackers falsely accused him of not caring about Black people. However, the candidate pointed out a major goal of his campaign is to tackle homelessness, which disproportionately affects Black Californians.
This comes as the sheriff of Los Angeles called out the woman who attacked Elder. In a tweet on Thursday, Alex Villanueva asked why the incident wasn't considered a hate crime. He then continued on to answer his own question saying "because woke privilege means a white woman can wear a gorilla mask and attack a Black man without fear of being called a racist."
Meanwhile, the Los Angeles Police Department reported that while no charges have been filed, the investigation is ongoing.