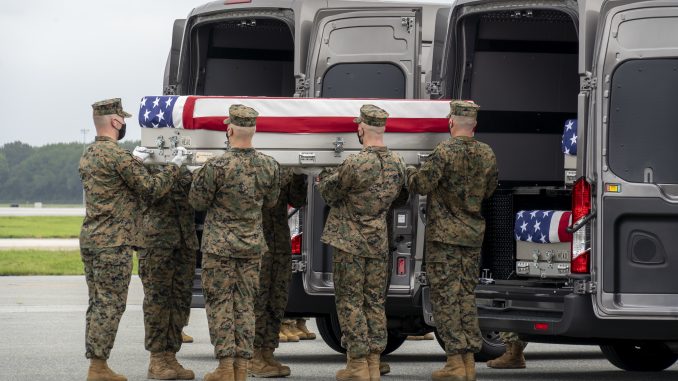 OAN Newsroom
UPDATED 2:57 PM PT – Monday, September 6, 2021
Family and friends of slain Marine Lance Corporal Kareem Nikoui gathered together to honor and celebrate his life and legacy. Over the weekend, the city of Norco held a ceremony for the 20-year-old, while also honoring the 12 other service members who died in the Kabul airport attack in late August.
Nikoui would be remembered as a fun and loving person who always wanted to serve his country.
"In school, the big thing he wanted, all he ever talked about was being a Marine. He was in the ROTC and that's what he wanted," one Norco resident expressed. "His dream was to be a Marine and then he fulfilled that dream. He was a fun loving boy that loved his country, loved his family and he was much too young to die."
The City of Norco will not forget the 13 heroes that were killed in action in #Kabul, Afghanistan, including Norco resident and Norco High School graduate #USMC Lance Corporal #KareemNikoui ♥️🤍💙 #USA #NeverForget pic.twitter.com/Xixk3O6khw

— City of Norco | Horsetown USA (@CityofNorco) September 6, 2021
Norco residents said the community was mourning as they held a moment of silence for the lost Marine and 12 other service members.
"I think it was a very beautiful ceremony," one resident stated. "This is Norco, so we're all a very tight knit community. Kareem gave his life for all of us and it's a beautiful ceremony in honoring the other 12."
City officials announced Nikoui's name would be engraved in the "Lest We Forget" wall at the Veteran's Memorial Plaza in Norco. The Marine's body is expected to be brought home September 17.