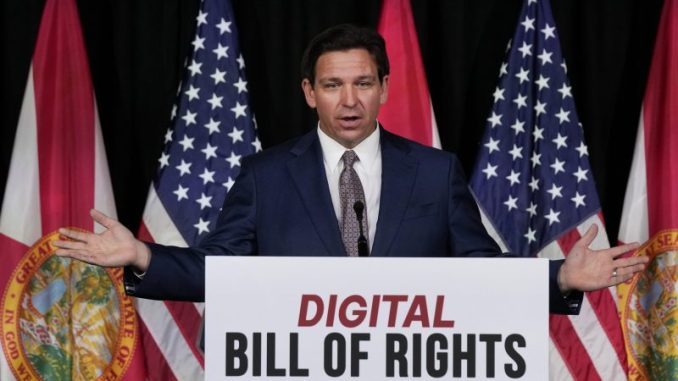 OAN Neil W. McCabe, OAN National Political Correspondent
4:11 PM PT – Wednesday, February 15, 2023
(TALLAHASSEE, Fla.) Florida's Republican governor proposed Wednesday a Digital Bill of Rights as a direct rebuke to collecting and marketing personal data, censorship and online harm to minors by the Big Tech companies.
"Our Digital Bill of Rights will ensure Floridians are protected from the overreach and surveillance we have seen from Big Tech companies," said Gov. Ron DeSantis.
"Today's proposal builds on our efforts to stop Big Tech censorship and combat the malign influence of China through the removal of nefarious platforms like TikTok from any state-supported activity," the governor said of the bill that will be part of the legislature's formal session, which begins in March.
The governor directed the state's Department of Management Services to give guidance to all state agencies so that they block access to applications and software tied to China, including TikTok, WeChat, and QQ, from all state devices—and the DMS was directed to block network connections to servers affiliated with foreign countries of concern, according to a statement from the governor's office.
The legislation would also ban TikTok and other social media platforms with ties to China from all state government devices and through internet services at colleges, universities, and public schools and prohibits state and local government employees from coordinating with Big Tech companies to censor protected speech, the statement said.
The statement said that this bill builds on the governor's directive that prohibits government entities from procuring technology products and services from companies owned by, controlled by, or domiciled in foreign countries of concern, including China.
Florida's Attorney General Ashley Moody said she strongly supports the bill.
"Big Tech has gone unchecked for too long and has been reckless with our data, causing major privacy concerns and potentially jeopardizing sensitive state information," Moody said.
"I'm proud to stand with Governor DeSantis today to give Silicon Valley a reboot and announce an audacious plan to protect Floridians and keep our children safe online," she said.
Florida Department of Law Enforcement Commissioner Mark Glass said the governor's bill would protect Florida residents.
"The governor's proposed Digital Bill of Rights is an important initiative that impacts so many citizens," Glass said.
"This tremendous tool will empower Floridians to fight back against fraud online, to ensure that the information they receive is really what it seems, and to protect their children from malicious actors."
Neil W. McCabe is a national political correspondent based in Tallahassee, Florida. Before his current assignment, Neil covered the White House and Capitol Hill for OAN. He is a Bronze Star veteran of the Iraq War and continues to serve as a senior public affairs NCO in the Army Reserve. Follow him at Twitter: @neilwmccabe2 GETTR & TruthSocial: @ReporterMcCabe