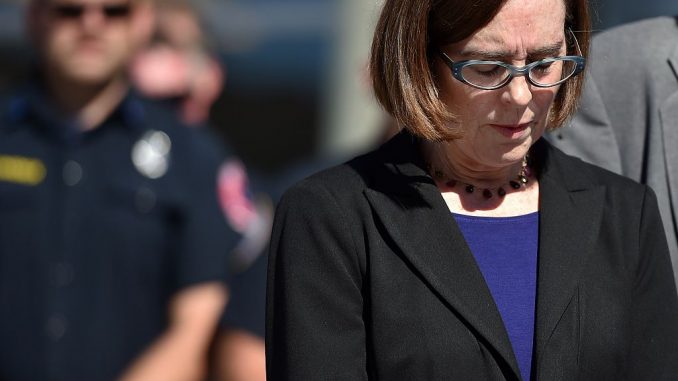 OAN Newsroom
UPDATED 7:38 PM PT – Saturday, September 4, 2021
A group of Oregon firefighters and police officers are suing Gov. Kate Brown (D). The governor of Oregon is being sued by a coalition of state police officers and firefighters over a mandate requiring the coronavirus vaccine for state workers.
Filed in Jefferson County Circuit Court, the suit against Gov. Brown asks a judge to declare her executive order as unenforceable. First reported by local news outlet Koin, the plaintiffs argued the mandate conflicts with Oregon statutes, would result in a wrongful termination of workers and conflicts with the Constitution's guarantee of equal protection, free exercise and due process.
"This isn't an issue about the vaccine, it's the issue of being told if you don't get it you're gonna lose your profession," said Portland-based lawyer, Dan Thenell.
Back in August, Brown announced all state executive branch employees would be required to be fully vaccinated on or before Oct. 18. In addition, the lawsuit said firefighters and troopers are being forced to choose between their rights as citizens and their careers, along with financial futures.
During this public health crisis, I have three goals: save lives, keep children in classrooms, and keep businesses open. We have two simple and effective tools to do that: masks and vaccines. We all have a personal responsibility to do our part. https://t.co/Kl7pXOYmHc

— Governor Kate Brown (@OregonGovBrown) August 27, 2021
"These are not callous public servants who don't want to be told what to do and follow rules. They take an oath to uphold the law, they take an oath to uphold the Constitution of Oregon and the United States, and they think this order is a violation of those sources of law," said Thenell. "They're standing up for what they believe in."
The plaintiffs have argued forcing workers to decide between their livelihoods and vindicating their constitutional rights is "unconscionable and wrong."
Brown declined to comment, however a spokesperson for the governor said she's responding to a public health crisis. In the meantime, the Centers for Disease Control and Prevention has reported 64 percent of Oregon's population has received at least one dose of the COVID-19 vaccine.