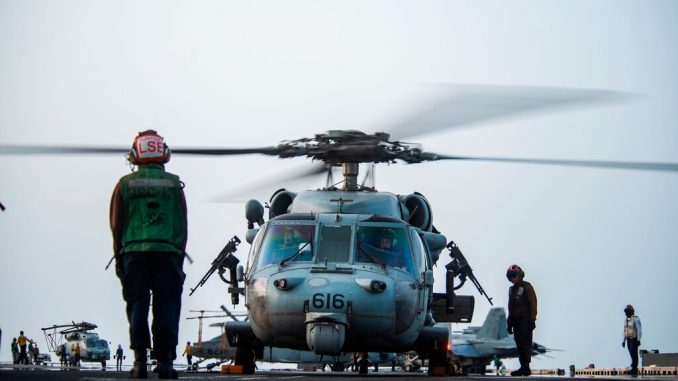 OAN Newsroom
UPDATED 1:05 PM PT – Friday, September 3, 2021
A helicopter crash investigator has unveiled what might have gone wrong in the crash that left five service members missing. On Wednesday, Dan Lennon elaborated on his time in the Navy when flying an MH-60S, which is the same helicopter that crashed on Tuesday off the coast of San Diego.
He said water impact from the 60 to 70 foot drop could have bent the frame of the helicopter making it hard for the crew to escape. He also suggested the pilot could have lost hydraulic control before the helicopter fell into the sea.
Lennon said he hasn't heard of a crash like this in years and something out of the ordinary must have happened to cause the helicopter to go down.
"We were highly trained. It's a pretty rigorous training process to fly something like that," said Lennon of his MH-60S flight experience.
.@PentagonPresSec: Search and rescue efforts continue for the five missing crew members of the MH-60S helicopter. pic.twitter.com/D6BOaQv4zF

— Department of Defense 🇺🇸 (@DeptofDefense) September 2, 2021
One crew member onboard was rescued, however the rest currently remain unaccounted for. Additionally, five sailors were reportedly injured in the incident.
Meanwhile, officials say an investigation is still underway.