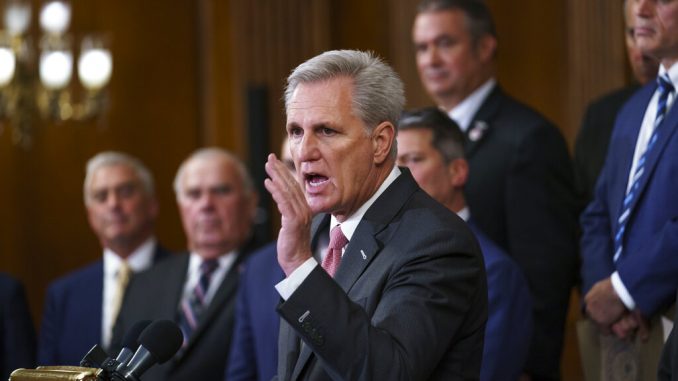 OAN Newsroom
UPDATED 7:36 AM PT – Thursday, September 2, 2021
House Minority Leader Kevin McCarthy (R-Calif.) slammed the Biden administration's handling of the Afghanistan withdrawal while encouraging veterans who served the U.S. in the war torn nation.
While speaking from the Nixon Library in Yorba Linda, California, the Republican lawmaker blasted the Democrats behind the Afghanistan pullout while noting Joe Biden had already given into the Taliban.
"These people still hate us, they hate our way of life, but now that we've departed we're in a weaker position," he stated. "But militarily, they're stronger because we just gave them weaponry and this administration won't even give them accountability."
McCarthy placed the entirety of the blame on the Biden administration while asserting his politically motivated decision to pull U.S. troops out of Afghanistan directly lead to the nation's collapse. The minority leader pointed out the administration's failure's, including its inability to give the true number of Americans still trapped there.
A question for every Democrat in Congress: Do you stand behind President Biden's decision to leave Americans behind in Afghanistan? pic.twitter.com/XhxCGTo41O

— Kevin McCarthy (@GOPLeader) September 1, 2021
Former National Security Adviser Robert O'Brien also spoke on the impact Afghanistan has had on U.S. foreign policy while noting the evacuation of Kabul created a serious international credibility issue. McCarthy added, Biden chose the Taliban over our NATO allies.
The minority leader later spoke to veterans of the War on Terror and encouraged Americans to thank the servicemen and women for the work they had done in the region.
"We need them to know they did a job well done, they were successful," McCarthy stated. "We were not attacked for 20-years because of what they'd accomplished. They did exactly what people have asked."
When asked about Biden's isolation and failure to respond to the media, the minority leader said he was concerned with how little staff was around the president. He then noted the difference between the current administration and the former.
"You know as a nation, you want to do things together," he explained. "I'm going to have differences than the administration but when it comes to putting America in the best footing, we're going to work well together. But they haven't come to us at all. I've reached out numerous times."
McCarthy and O'Brien both admitted they wouldn't always see eye-to-eye with the Biden administration, but added they would do their best to achieve the best outcome for the nation.