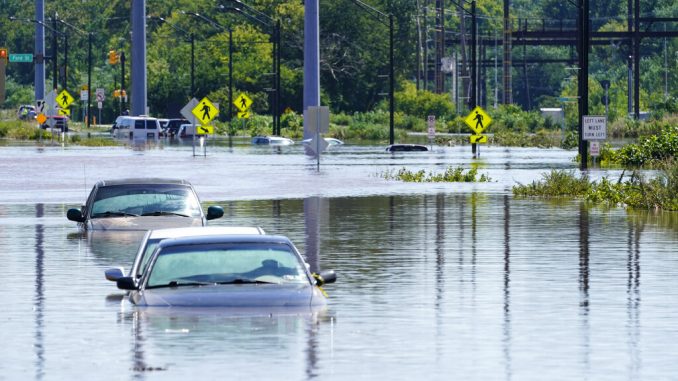 OAN Newsroom
UPDATED 11:29 AM PT – Thursday, September 2, 2021
New York and New Jersey are assessing the damage left in the wake of the remnants of Hurricane Ida. The governors of each state declared states of emergency Wednesday as heavy rainfall has led to flooding and hazardous conditions. A tornado also left a path of destruction in its wake as it tore across southern New Jersey Wednesday evening.
In his statement, Gov. Phil Murphy (D) said the safety of New Jersey's residents is the top priority while urging residents to stay informed about the changing weather conditions and to stay off the roads. His declaration applies to 21 of New Jersey's counties.
Meeting with state emergency management officials at the Statewide Traffic Management Center in Woodbridge to discuss Tropical Storm Ida response and recovery. Your safety is our top priority, and we're working around the clock to clean the state up and restore power. pic.twitter.com/hOFQSxTUjG

— Governor Phil Murphy (@GovMurphy) September 2, 2021
Meanwhile in New York, the National Weather Service reported record-breaking rainfall with Central Park getting 3.1 inches of water over the course of a single hour. New York City Mayor Bill de Blasio (D) asked residents to move to higher ground and stay off the roads.
Additionally, the extreme weather has caused issues for the city's transit system. This has led to limited services and in some cases suspended travel altogether.
#NYC #Subway pic.twitter.com/xdhW6v8mv5

— AI6YR (@ai6yrham) September 2, 2021
The historic flooding has led to the National Weather Service to issue the first-ever flash flood emergency warning for parts of New York City. That alert level is reserved for "exceedingly rare situations when a severe threat to human life and catastrophic damage from a flash flood is happening or will happen soon."
In Pennsylvania, residents and emergency crews are dealing with the aftermath of tornados spawned from the storm.
"I signed a disaster emergency proclamation to help free up resources to help the commonwealth prepare for the storm, and that allowed us to preposition emergency crews and supplies in strategic places all across the commonwealth," said state Gov. Tom Wolf (D). "It also allowed me to activate the National Guard. We're doing everything we can to prepare for further rainfall and prepare for potential flooding."
I'm at @PEMAHQ to update Pennsylvanians on this week's historic rainfall from #IDA.

Many are hurting today — waking up to flood damage and no electricity in their homes.

We are here to help you recover. pic.twitter.com/1dIc6fALve

— Governor Tom Wolf (@GovernorTomWolf) September 2, 2021
Ida hit Louisiana at the start of the week as a Category 4 hurricane and is on track for the Atlantic Ocean, where experts say it's expected to fizzle out and have its name retired.
More than 20 people have been killed so far as the remnants of Hurricane Ida continue to rip through the Northeast. The death toll for the region as of Thursday morning rose to at least 22 as crews continued to search for dozens of missing people amid record rainfall.