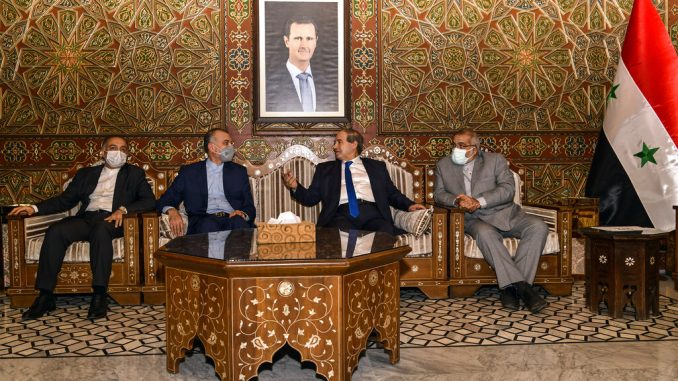 OAN Newsroom
UPDATED 7:46 AM PT – Monday, August 30, 2021
Iran and Syria celebrated the Taliban's takeover of Afghanistan following the messy U.S. withdrawal. The two nation's foreign ministers met Sunday to discuss a plan to strengthen their economies despite U.S. sanctions.
The U.S. has imposed financial restrictions on Iran in one form or another since 1979 and on Syria since 2004. Both ministers made negative comments about the U.S. regarding the ongoing economic impact of the sanctions. They also criticized Joe Biden's withdrawal strategy, or lack thereof, from Afghanistan.
"We discussed the situation in Afghanistan; the thunderous defeat (of) the United States in Afghanistan will lead to similar defeats for American troops in Syria and other parts of the world," stated Faisal Mekdad, Syria's Foreign Minister. "The two countries are currently working to put (forth) two road maps for developing relations in trade and economic cooperation in the face of the unjust sanctions imposed on them."
Iran's FM @Amirabdolahian has held talks with Syrian President over issues of mutual interest in Damascus.
Iran's FM referred to the economic cooperation between Iran & Syria,highlighting the need for activating the Joint Commission of Economic Cooperationhttps://t.co/LmFXiwiMiP pic.twitter.com/fLt9rZu6LH

— Iran Foreign Ministry 🇮🇷 (@IRIMFA_EN) August 30, 2021
The ministers reportedly made a pact to build each other's economies, which they say will be aided by the election of Iranian President Ebrahim Raisi.