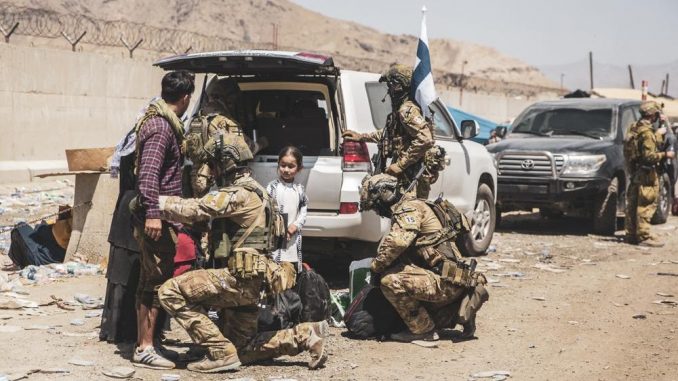 OAN Newsroom
UPDATED 1:41 PM PT – Saturday, August 28, 2021
Security experts have sounded the alarm on future attacks coming from ISIS and other terrorist organizations. According to Director Elie Tenenbaum of Security Studies Center at the French Institute of International Relations on Friday, the recent attack at the Kabul airport would have a lasting impact for the war on terror.
"The big story here is that the Taliban won in Afghanistan. After 20 years of war, they defeated the first (leading) military in the world and the allies. This is the big story," he stated. "This is the story that is going to is going to impact and influence jihadi fighters around the globe for the next decade."
He added the airport attack has shown ISIS was "still in the game" and had the capability to target the U.S. In addition, experts warned recent attacks could be used by terrorist cells to create and promote anti-western propaganda in an effort to recruit more fighters for their cause.
"It's definitely showing that ISIS, as a global organization still in the game, is still able to target the United States, which is sort of golden target that any jihadi organization could hope for," Tenenbaum explained. "This is something that has not been managed by a jihadi organization in a long time, fortunately. In the jihadi sphere, this is recruitment material which is thoroughly important, even though ISIS-K itself is not going to be possibly the first beneficiary in terms of flow of fighters."
MG Taylor: Yesterday, U.S. military forces conducted an over-the-horizon counterterrorism operation against an ISIS-K planner and facilitator. […] I can confirm now that two high-profile ISIS targets were killed, one wounded, and we know of zero civilian casualties. pic.twitter.com/VTEtsamXzl

— Department of Defense 🇺🇸 (@DeptofDefense) August 28, 2021
To prevent future attacks, experts said the U.S. must act swiftly and prevent Afghanistan from becoming a base for terrorists.
"The one lesson from history of this 20 years of global war on terrorism is that you do not let sanctuary to the jihadi groups because it is going to blow back on your security interests at home and you're going to see a disappointed, this kind of plots coming from the sanctuaries," Tenenbaum expressed. "This is the risk of letting Afghanistan (become) a harbor for other terrorists."
Meanwhile, the Pentagon said the upcoming days are likely to be the most dangerous as remaining personnel continue to withdraw from Afghanistan.