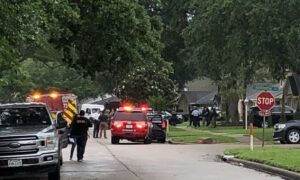 After the shocking discovery of nearly 100 illegal aliens a residence in Houston, the Department of Justice (DOJ) filed charges against five people residing in the United States illegally following their arrest.
The criminal complaint filed on May 1 accuses 2 Mexican nationals, 2 Honduran nationals, and one person from El Salvador, all between 21 and 31 years old, of harboring, concealing, and shielding illegal aliens with the intention to gain commercial advantage or financial gain.
Authorities were allegedly made aware of a kidnapping situation: a woman had paid thousands of dollars for her brother to be smuggled into the United States and claimed that she was asked for more money after the smugglers threatened to put an end to his life, the charges say, according to the DOJ.
An overnight investigation led to a surprising discovery of 97 illegal immigrants, crammed in two rooms of a two-story house which had the deadbolts of the doors facing outside, impeding escape.
All the males that were found in the house, which were the vast majority, were only wearing their undergarments. One of them was told that if the money wasn't transferred he would end up in "4 pieces of wood," the charges allege.
If the operators are pronounced guilty, each face up to 10 years of federal imprisonment and a potential maximum of $250,000 in fines.
No serious injuries were reported, according to authorities, but they mentioned that "there may be some positive COVID cases inside the house," with some of the aliens showing a loss of the sense of smell and taste, as well as fever, which are symptoms of the CCP (Chinese Communist Party) virus which causes COVID-19.
There were no minors in the house, the youngest being in their early 20s. Five of them were women and the rest were all men who hadn't eaten in a while and were fed by officials.