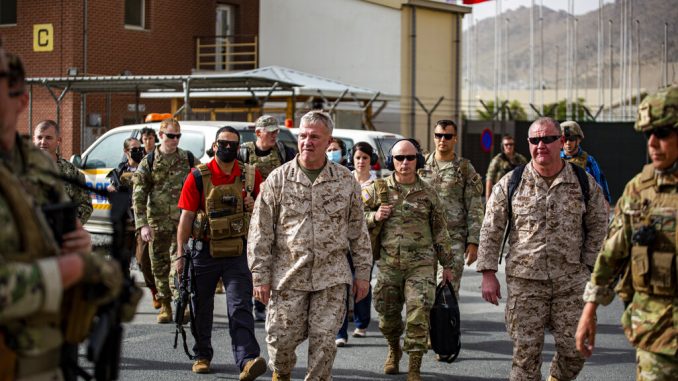 OAN Newsroom
UPDATED 10:08 AM PT – Friday, August 27, 2021
The general overseeing the American evacuation from Afghanistan said Thursday's attack against U.S. service members might not be the last. On Thursday, Commanding General Kenneth McKenzie warned terrorist attacks could continue in the region.
"We believe it is their desire to continue those attacks and we expect those attacks to continue," he stated. "And we're doing everything we can to be prepared for those attacks."
General McKenzie said very serious security threats remain for American military personnel as the U.S. approaches Joe Biden's August 31 deadline to withdraw from Afghanistan.
"Very, very real threat streams….would call tactical," he explained. "That means imminent could occur at any moment and they range from rocket attacks. We know that they would like to lob a rocket in there if they could."
McKenzie said the U.S. is actively working to find the ISIS terrorists suspected of being responsible for the heinous act.
"We've been clear all along that we're going to retain the right to operate against ISIS in Afghanistan and we are working very hard right now to determine attribution, to determine who is associated with this cowardly attack," he continued. "And we're prepared to take action against them, 24/7 we are looking for them."
MG Taylor: There are more than 5,000 U.S. service members in harm's way saving as many people as they can. It's a noble mission. We have seen firsthand how dangerous that mission is, but ISIS will not deter us from accomplishing this mission. pic.twitter.com/T3u14Wwz8n

— Department of Defense 🇺🇸 (@DeptofDefense) August 27, 2021
Despite the potential risk of another attack, McKenzie said the U.S. is still working to evacuate as many Americans from Afghanistan as possible.
"We will coordinate very carefully to make sure that it's safe for American citizens to come to the airfield," he assured. "If it's not, we'll tell them to hold and then we'll, you know, we'll work other ways to try to get them to the airfield. But I think our mission remains. We're still committed to flowing people out up until we terminate operations at some point towards the end of the month. "