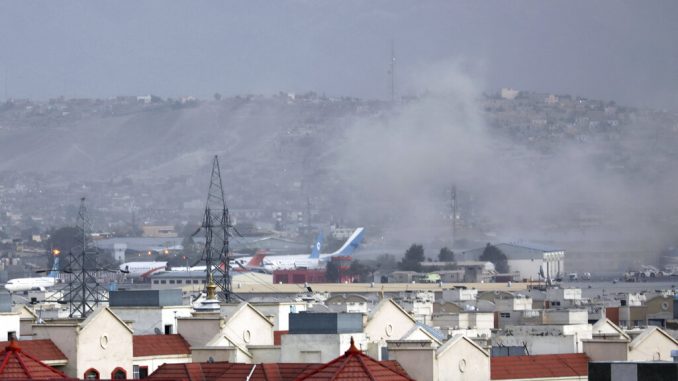 OAN Newsroom
UPDATED 8:36 AM PT – Thursday, August 26, 2021
The U.S. Embassy in Kabul, Afghanistan issued a warning for Americans to not travel to the airport. The warning was issued Wednesday and advises U.S. citizens already at the Abbey Gate, East Gate and North Gate at Hamid Karzai International Airport to leave immediately due to security threats outside the gates of the Kabul airport.
Americans are being asked to be aware of their surroundings at all times. Meanwhile, several nations are echoing warnings regarding the security situation around the airport. Both Australia and the U.K. have urged people in the area to move away from the airport due to terror threats.
Intelligence reports have suggested and imminent threat from Islamic State militants. NATO has strongly urged this threat to be taken seriously. This comes as thousands of Afghan nationals have continued to rush the area in hopes of getting out.
"Our clear travel advice is now, do not travel to Hamid Karzai International Airport and if you're in the area of the airport, move to a safe location and await further advice," stated Australian Foreign Affairs Minister Marise Payne. "Afghanistan remains highly volatile and dangerous. Be aware of the potential for violence and security threats with large crowds. There is an ongoing and very high threat of terrorist attack."
Assistant to the Secretary of Defense for Public Affairs,  John Kirby confirmed there were an explosions near the Kabul airport on Thursday. The Pentagon confirmed a "number of U.S. and civilian casualties" in what appears to be a suicide attack aimed at the Abbey Gate.
We can confirm that the explosion at the Abbey Gate was the result of a complex attack that resulted in a number of US & civilian casualties. We can also confirm at least one other explosion at or near the Baron Hotel, a short distance from Abbey Gate. We will continue to update.

— John Kirby (@PentagonPresSec) August 26, 2021
According to a Taliban spokesperson, at least 13 people were killed in the blast. It's unclear how many additional casualties there may be at this time. Joe Biden has reportedly been briefed on the incident and he's meeting with his national security team on the situation. The blast comes as foreign officials warned an "imminent lethal threat" of a suicide attack on the airport was present.
As 0f Wednesday, U.S. Secretary of State Anthony Blinken said there were roughly 1,500 U.S. citizens still in the country. The pressure is on to evacuate those remaining as the deadline for full U.S. troop removal is set for next week. The Taliban has threatened a response if provoked by a missed deadline.
A recent report from the White house gave an update on the number of evacuees rescued from Afghanistan in the last 24-hours. As of Thursday morning, an official confirmed approximately 14,000 people were cleared out of the region in that time frame. Seventeen U.S. military flights carried roughly 5,000 evacuees out of Kabul while 74 coalition flights carried around 8,300 people.
Evacuation operations in Kabul will not be wrapping up in 36 hours. We will continue to evacuate as many people as we can until the end of the mission. #HKIA

— John Kirby (@PentagonPresSec) August 26, 2021
The U.S. now says nearly 96,000 people have been evacuated since August 14, bringing the total to over 101,000 people since the end of July.