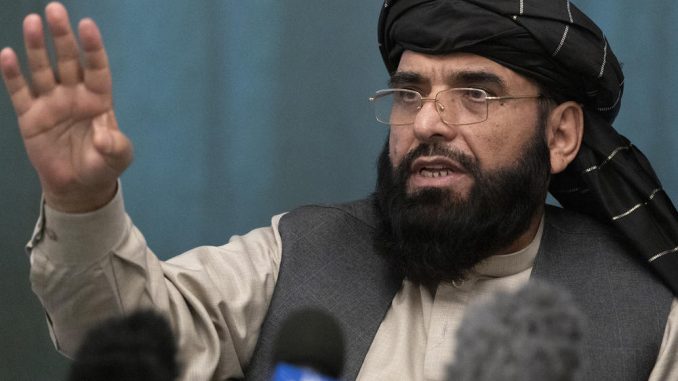 OAN Newsroom
UPDATED 10:28 AM PT – Tuesday, August 24, 2021
The Taliban has warned the Biden administration to not extend the deadline to withdraw U.S. forces from Afghanistan while Americans remain stranded in the country. The White House has been scrambling to get a grip on the crisis with the Taliban continuing to apply pressure to the situation.
While speaking to Sky News on Tuesday, a spokesperson for the Taliban, Suhail Shahee, said August 31 is a "red line." He directly told Joe Biden to not extend the deadline.
"It's a red line," Shahee stated. "President Biden announced that on August 31 they would withdraw all their military forces, so if they extend it that means they are extending occupation while there is no need for that."
The Taliban spokesperson then issued a stern warning to the U.S. by suggesting a reaction will be provoked if it fails to withdraw by the end of the month.
On Monday, Pentagon Press Secretary John Kirby gave a vague response stating the U.S. intends to meet its goal of August 31. He said their are currently no talks of extending the deadline..
"We are well aware of of of the stated desire by the Taliban to have this mission completed by the 31st of August," Kirby stated. "I would tell you that we, too, are still planning on completing it by the 31st of August. That is the mission that we have been signed by the commander-in-chief assigned to us and that's what we're trying to execute."'
However, even Democrats are beginning to cast doubt on the Biden administration's goal. When speaking to reporters on Monday, House Intelligence Committee chairman Adam Schiff (D-Calif.) said he believes it's unlikely the U.S. will be able to evacuate all of its personnel by the end of the month.
""I think it's very unlikely given the number of Americans who still need to be evacuated, the number of SIV (Special Immigrant Visas), the number of others who are members of the Afghan press, civil society leaders, women leaders," he stated. "It's hard for me to imagine all of that can be accomplished between now and the end of the month."
Even Biden can't stay on the same page as his cabinet with the Democrat stating over the weekend that officials are looking at extending the deadline.
"There is discussions going on among us and the military about extending," Biden stated. "Our hope is we will not have to extend, but there are going to be discussions, I suspect, on how far along we are in the process."
Meanwhile, Biden is expected to make an final decision on the withdrawal deadline ahead of an upcoming virtual G7 meeting.