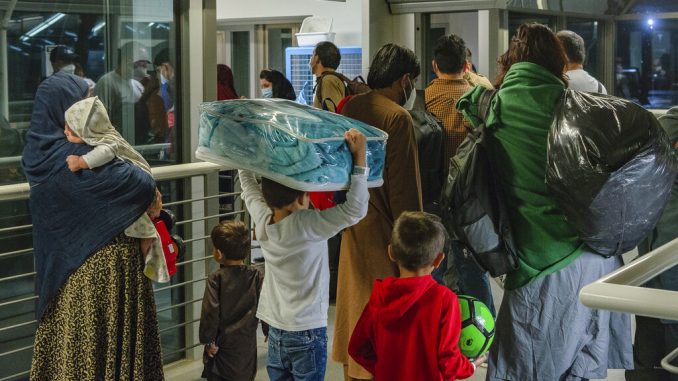 OAN Newsroom
UPDATED 7:36 AM PT – Monday, August 23, 2021
Several top diplomats and military leaders under former President Barack Obama gave a grim update of the Biden administration's retreat from Afghanistan.
Biden's Afghanistan disaster was called out by these Obama officials:

➡️ Jeh Johnson (DHS)
➡️ Leon Panetta (CIA)
➡️ John Brennan (CIA)
➡️ David Petraeus (CIA)
➡️ David Axelrod (WH)
➡️ Ryan Crocker (Afghanistan Ambassador)

All FORMER! Few CURRENT Dem officials have courage!

— Kayleigh McEnany (@kayleighmcenany) August 17, 2021
On Monday, former U.S. Ambassador to Afghanistan Ryan Crocker warned the White House is not adequately answering how it will get Americans and allies out of the country. He stressed that Biden gave up America's ground-game when U.S. troops were pulled out of the country before non-military personnel. Crocker warned sending in helicopters and other aircraft to secure zones will be a challenge as the Taliban are well armed and are securing their control of Afghanistan.
He also took aim at the Biden administration's reluctance to recognize Al -Qaeda as a credible threat. The former diplomat said the terrorist organization is not gone and is likely waiting for the opportune time to strike. Crocker then claimed that's what the Taliban did over the past 20-years.
Additionally, Obama's former Department of Defense and Department of Homeland Security Secretary Jeh Johnson sounded off a similar tune while warning the mountains of Afghanistan are the perfect breeding ground for terrorist organizations.
"You could probably hide an entire large American city in the mountains of Afghanistan undetected," he explained. "It is the very type of place that terrorist groups seek to establish as a headquarters, as a base for training and gathering."
Johnson went on to say it would have been better to leave a small force on the ground in the country to perform counter-terrorism operations. He claimed keeping key bases, including Bagram Airbase, would have made it easier and safer to get non-military personnel out of Afghanistan."
"And I understand the desire to get out after 20-years, but getting out doesn't necessarily mean moving every single member of the United States military from that place," Johnson stated. "We have our military in small forces stationed in a number of places around the world."
Johnson concluded with a dire warning about the efforts to evacuate people from Afghanistan. Despite the Biden administration's insistence they are on top of the problems threatening evacuation attempts, Johnson believes the situation hasn't yet peaked.
"I believe that the situation at the airport is going to get a lot worse before it gets better," he stated. "This is a country of 38 million people. We've gotta deal with the American citizens, those who qualify for special immigrant visas and those who will also qualify for refugee status under our laws. And that population can snowball."