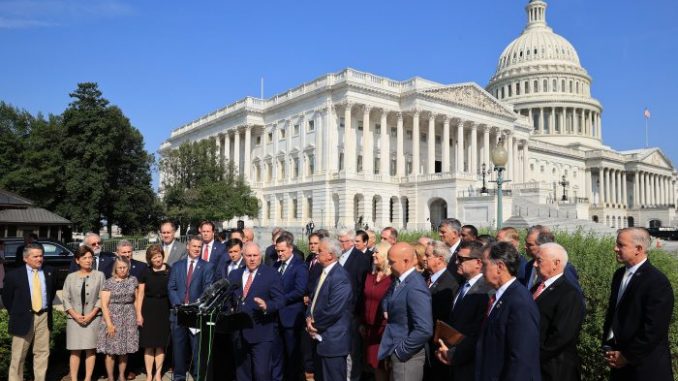 OAN Newsroom
UPDATED 5:15 PM PT – Tuesday, August 24, 2021
House Republicans, many of whom served in Afghanistan themselves, took to the steps of the Capitol building for their impassioned pleas to the Biden administration to get Americans safely out of Afghanistan. House Minority Whip Steve Scalise (R-La.) opened up Tuesday's press conference to reassure those Americans still trapped in Afghanistan that despite the White House's neglect, Republicans remained dedicated to their safe return home.
"To those Americans who are still abandoned behind enemy lines, we want to let you know you are our top priority," he asserted. "Our number one priority here as House Republicans is to make sure every single American who has been stranded behind enemy lines is safely returned home to the United States."
"Our number one priority here as House Republicans is to make sure every single American who has been stranded behind enemy lines is safely returned home to the United States." – @SteveScalise on Americans stranded in Afghanistan. pic.twitter.com/q1sIkA1kDf

— House Republicans (@HouseGOP) August 24, 2021
Rep. Jim Banks (R-Ind.) served on the front lines in Afghanistan to train and advice the Afghan army as well as the police force. As a military sales officer, his job was also to acquire and turn over American military equipment to the Afghans he trained.
He went on to say, "you can imagine how shameful I find it that all of that today all of that equipment has fallen in to the hands of the Taliban."
Banks added in Biden's hasty withdrawal, the administration left the enemy with $85 billion worth of equipment. This included 75,000 vehicles, 200 airplanes and helicopters, more than 600,000 small arms and light weapons, night vision goggles and body armor.
He expressed, "if any of these weapons or this military equipment is used to harm, injure or kill any American now or anytime in the future, the blood is on Joe Biden's hands."
You're going to be hearing more and more about ISIS-K in the days to come. The situation that Joe Biden has created in Afghanistan will only mean a rise of ISIS there that poses a real and direct threat to the USA and Joe Biden knows it.

— Jim Banks (@RepJimBanks) August 24, 2021
The Taliban has reportedly acquired more Black Hawk helicopters than 85 percent of the countries in the world as well as biometric devices with identifying information, which has put our Afghan allies and their families in imminent danger.
"The Taliban now has biometric devices, which have the fingerprints, eye scans and biographical information of all the Afghans who helped us and were on our side over the last twenty years," he explained. "There is no plan to get those weapons back."
Rep. Mike Waltz (R-Fla.) said the Intelligence community has been clear in its repeated briefings the Taliban take over meant America was going to face "al Qaeda 3.0."
"How many are going to die now because they are going to have to fight their way through our own equipment, our own damn equipment, to deal with al Qaeda 3.0?" he questioned "Are we going to have another Pulse Night Club, another San Bernardino, another 9/11 because of that incompetence?
When future American soldiers have to go back in to deal with the incompetence of this Administration, they are going to have to fight through OUR OWN EQUIPMENT & more lives will be lost.

That blood will be on the Biden Admin's hands and Congress WILL hold them accountable. pic.twitter.com/zMsc5vaIXJ

— Rep. Mike Waltz (@michaelgwaltz) August 24, 2021
Rep. Jack Bergman (R-Mich.), having achieved the rank of Lieutenant General in the U.S. Marine Corps, has understood the mission was far from over.
"When you win, you also leave no one behind. Leadership shows, but leadership only shows when it's put to the test. Well folks, we're being put to the test right now," he expressed. "The world is watching. Our Afghan partners and families are praying. We are praying. Mr. President, step up or step out."
Biden has remained stern on the August 31 withdrawal deadline, with his administration continuing to say all Americans would be evacuated by that date.