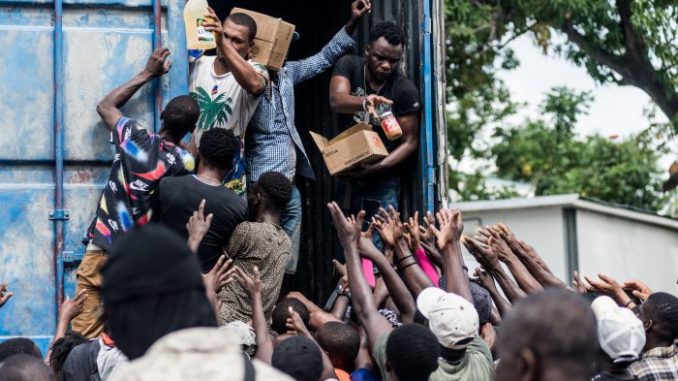 OAN Newsroom
UPDATED 11:13 AM PT – Saturday, August 21, 2021
Haitians desperate for aid in the wake of the 7.2 magnitude earthquake have been stealing food and supplies from trucks. According to reports, residents of one small town could be seen swarming aid trucks on Saturday as leaders have tried to coordinate aid efforts in the nations.
Reports also mentioned the truck drivers were able to remain safe and the trucks were mostly undamaged. Haitians said they have become frustrated over the lack of help and called on local authorities to prevent a deteriorating security situation.
"The people of Cayes are living in hunger. All the houses collapsed. The city is doing badly now," one resident expressed. "We are suffering. We can't find food to eat. When the truck arrives with the food, the police don't want to distribute it."
We support the survivors of Saturday's earthquake in #Haiti. This morning, in Camp-Perrin alone, @WFP distributed rice, beans and vegetable oil for 2,500 people. We also continue to provide cash assistance to people who were severely food insecure even before the earthquake. pic.twitter.com/IPBQrHxs0A

— WFP Haiti (PAM) 🕊️ (@WFP_Haiti) August 20, 2021
Haiti's prime minister said the government learned lessons in the earthquake of 2010 and assured it was better coordinating its emergency response. The quake on August 14 killed more than 2,000 people, injured more than 12,000 and damaged or destroyed around 100,000 homes.