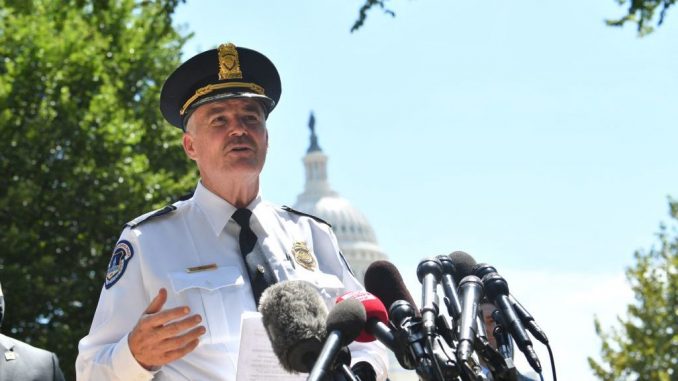 OAN Newsroom
UPDATED 5:48 PM PT – Thursday, August 19, 2021
Police have identified the suspect accused of making a bomb threat outside of the Library of Congress on Thursday. Authorities said 49-year-old Floyd Roseberry of North Carolina was taken into custody without incident.
This comes after officers negotiated with the suspect for hours. The suspect appeared to be holding a detonator in a pickup truck, however, Roseberry eventually surrendered.
Police said they are still trying to determine the man's motives and said he has suffered from severe psychological distress. Meanwhile, authorities said there was no bomb found in Roseberry's truck, but they did find suspected bomb-making materials.
"We do know that Mr. Roseberry has had some losses of family…we spoke with members of his family and there were other issues that he was dealing with," confirmed Chief Tom Manger of the Capitol Police.
Officials added they are working with prosecutors to put together charges against the suspect.
Our Hazardous Devices Section played an integral role in safely resolving the situation today.

Here are just some of the many heroes from multiple agencies who helped: pic.twitter.com/FWoGczi3gt

— U.S. Capitol Police (@CapitolPolice) August 19, 2021