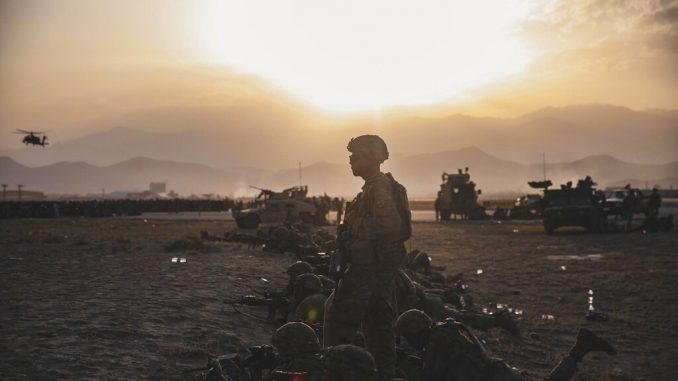 OAN Newsroom
UPDATED 8:17 AM PT – Wednesday, August 18, 2021
According to the 45th president, Joe Biden has humiliated the U.S. more than any other president in his handling of the troop withdrawal in Afghanistan. In an interview Tuesday, Donald Trump called the incident a "terrible time for our country" while likening it to Jimmy Carter's handling of the Iran hostage crisis in 1979.
He also noted the U.S. was set up by people who are "very great negotiators" and said they likely consider anyone left in the country to be "hostages." Trump added, he never had confidence in the government of President Ashraf Ghani who he says was only in it for the money.
Meanwhile, the Biden administration is reportedly admitting to being unable to guarantee safety of U.S. citizens who are seeking evacuation from the Middle Eastern country. According to CBS news Tuesday, Americans stranded in Afghanistan are receiving a message instructing them to head to the airport in Kabul.
The below note went out this afternoon to American citizens requesting to be evacuated from Afghanistan, @alanacbs reports. It instructs people to come to Hamid Karzai Intl Airport in Kabul, but says the US govt cannot guarantee their safety as they make the trip. @CBSNews pic.twitter.com/rgEyjGup4K

— Sara Cook (@saraecook) August 17, 2021
The message explicitly says the "United States government cannot guarantee your security as you make this trip." The messages obtained by CBS also contradicts the State Department's own statements on evacuations.
"Our team is working hand in glove with military colleagues to help load planes safely and securely and as fast as possible," said State Department spokesperson Ned Price. "We've now completed our drawdown to the core diplomatic presence we need and at this time, we will no longer at this time, no longer need to facilitate departures for our embassy personnel. All remaining embassy staff will be assisting departures from Afghanistan"
At least 10,000 Americans may still be trapped in Afghanistan amid the Taliban's takeover.