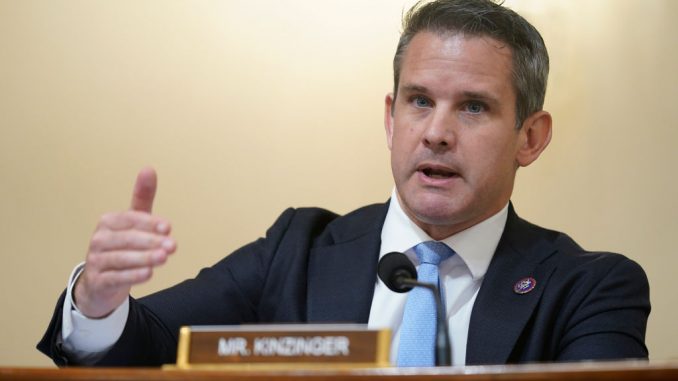 OAN Newsroom
UPDATED 2:01 PM PT – Saturday, August 14, 2021
Appearing on CNN Friday, Rep. Adam Kinzinger (R-Ill.) alleged that Republicans are being led to believe lies because of President Donald Trump. The anti-Trump Republican further claimed that because of Trump's promotion of election fraud theories, violence is likely to occur.
"When somebody with authority speaks conspiracy or when somebody with authority speaks that dark part in everybody's heart that we always have to fight against, the desire to hate, the desire to divide, it gets permission to let that overtake you," said Kinzinger. "We can't be surprised when this happens to a large scale like we saw on Jan. 6 and like we are concerned about in the future."
Despite Kinzinger's stance, only one death was the result of violence that occurred during the Capitol protest. Ashli Babbitt fell victim to a fatal gunshot wound by a Capitol Police officer.
After taking the job, Kinzinger notably received GOP House Leader Kevin McCarthy's (R-Calif.) ire. Additionally, fellow Republican Lauren Boebert (Colo.) demanded Kinzinger, along with Rep. Liz Cheney (R-Wyo.), be expelled from the party.
I'd send him a response on here, but only one of us has a Twitter account. pic.twitter.com/0Lbrr18I49

— Miles Taylor (@MilesTaylorUSA) May 12, 2021
Former Trump White House staffer, Miles Taylor, has also been promoting theories of the 45th president causing violence. The originally anonymous author of "A Warning," a book describing Taylor's efforts to thwart the will of the elected president, came forward just before the election to campaign for Joe Biden.
President Trump called him a nobody who he's never heard of. Speaking to MSNBC recently, Taylor too pushed the theory that Trump and his supporters are violent liars.
So far, from those arrested in the FBI's massive dragnet over Jan. 6, nobody has been charged with terrorism or insurrection. Instead, most of those arrested are being charged with nonviolent picketing offenses, which is a far cry from the theory that domestic terrorism from Trump supporters is imminent.