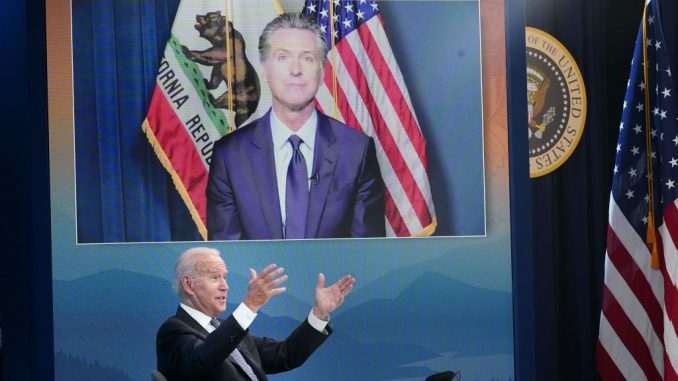 OAN Newsroom
UPDATED 1:01 PM PT – Friday, August 13, 2021
Joe Biden gave his endorsement to Gov. Gavin Newsom (D-Calif.) as the embattled California governor continues his fight to stay in office. In a tweet on Thursday, Biden urged voters to "keep Newsom on the job and vote no on the recall."
This was his first public involvement in the recall, and White House officials suggested both he and Kamala Harris could make in-person campaign stops to support Newsom as the race tightens in the final weeks. However, just one day earlier, Press Secretary Jen Psaki said Biden had no plans to get involved in the race.
Gov. @GavinNewsom is leading California through unprecedented crises—he's a key partner in fighting the pandemic and helping build our economy back better. To keep him on the job, registered voters should vote no on the recall election by 9/14 and keep California moving forward.

— Joe Biden (@JoeBiden) August 13, 2021
Some analysts said they believe this marks a significant reversal from Democrats' hands-off approach toward the recall efforts, possibly signaling party leaders may be growing worried. Additionally, recent polls showed a near 50-50 split within the margin of error, with half of likely voters wanting to oust Newsom.
Meanwhile, California's gubernatorial recall election is slated for Sept. 14.