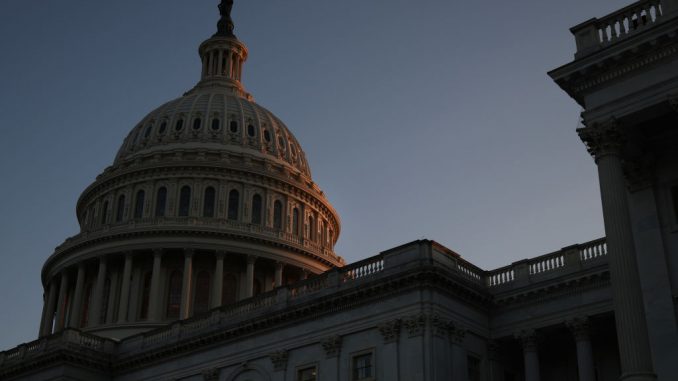 OAN Newsroom
UPDATED 10:36 AM PT – Wednesday, August 11, 2021
Senators on both sides of the aisle finally reached a vote on the more than $1 trillion infrastructure package. On Tuesday, the bipartisan bill passed through the Senate with 19 GOP senators, including Minority Leader Mitch McConnell (R-Ky.), Lindsey Graham (R-S.C.), and Mitt Romney (R-Utah) siding with all Democrats. The vote comes after months of negotiations and debate, bleeding into this past weekend and the Senate's August recess.
Roughly $550 billion is expected to be allocated toward traditional infrastructure. This includes, $110 billion to modernize roads and bridges, $66 billion to bolster America's railroads and $40 billion to revamp our transit system. Additionally, lawmakers included $66 billion to expand the reach of America's broadband networks.
"It's been a long and winding road, but we have persisted and now we have arrived," said Sen. Chuck Schumer (D-N.Y.). "There were many logs in our path, detours along the way, but the American people will now see the most robust injection of funds into infrastructure in decades."
However, Republican critics have decried provisions aimed at bolstering Democrats' climate agenda, like the more than $7 billion for electric vehicle charging stations, the $65 billion to modernize our electric grid and $21 billion for environmental remediation projects.
🚨 The Senate passed the bipartisan infrastructure bill!

Major infrastructure investments — along with the jobs and economic growth they would create — remain a top priority across the ideological spectrum, and I hope my House colleagues recognize this.

Let's get it done. pic.twitter.com/CXH5lbVZem

— Rep. Abigail Spanberger (@RepSpanberger) August 10, 2021
Critics added there are gaps in how the bill will be paid for. They claimed while more than $260 billion have been set aside from untapped COVID-relief funds and extra federal unemployment benefits, relying on dynamic scoring or future projections of the U.S. economy, will not pay for the bill in the proposed five year timeline.
They also warned this and other bloated spending proposals will devastate the U.S. economy and further fuel rising inflation.
"If this historically reckless taxing and spending spree is how the modern Democratic Party wants to define itself, if they want inflation and tax hikes to be their legacy, then Republicans do not currently have the votes to spare American families this nightmare," said McConnell.
In the meantime, the amended bill is expected to head back down to the House where its future remains uncertain. Members of the House Progressive Caucus penned a letter to House Speaker Nancy Pelosi (D-Calif.) stating they would not vote yes unless the Senate also passed the bloated $3.5 trillion budget reconciliation bill. Although, experts warned the debate on reconciliation may bleed into fall.