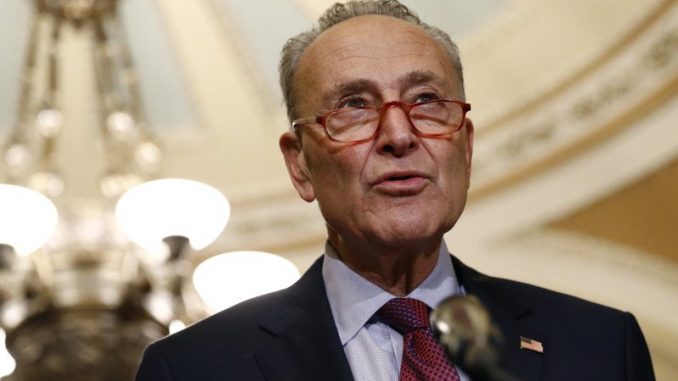 OAN Newsroom
UPDATED 8:41 AM PT – Tuesday, August 10, 2021
Democrats unveiled their $3.5 trillion budget framework. The text was released on Monday and has been a hot topic of concern with Republicans as many have openly rejected the legislation.
Major aspects of the budget framework outlined billions towards childcare and schooling, expanding Medicare, addressing alleged climate change, housing and clean energy. Senate Majority Leader Chuck Schumer (D-N.Y.) said committees had a deadline to "submit their reconciliation legislation" by September 15 and touted the package's importance.
He went on to say, "democratic budget will be the most significant legislation for American families since the era of the new deal and the great society."
This morning, Senate Democrats unveiled our FY2022 budget resolution.

This legislation is about restoring the middle class in the 21st Century and giving more Americans the opportunity to get there.

And we're working to get it done.

— Chuck Schumer (@SenSchumer) August 9, 2021
However, some have expressed opposition to the bill's high price tag, such as Democrat Sen. Kyrsten Sinema (Ariz.). Senate Minority Leader Mitch McConnell (R-Ky.) also criticized the bill.
"In just a few days, our colleagues will start ramming through yet another, another reckless taxing and spending spree," he expressed. "Trillions more in inflationary spending when families just want good jobs and stable prices."
As Republicans have publicly decried the effort, Democrats hoped to skirt around the Senate filibuster by first passing a budget resolution. This would have permitted Democrats the opportunity to work on a reconciliation bill.
McConnell stated Democrats are on their own.
The Republican went on to say, "if they want all this spending and debt to be their signature legacy, they should leap at the chance to own every bit of it."
In a few days, Democrats want to put far-left radicalism on the Senate floor. The American people will know where every Senator stands on a slew of bad ideas:⁰
❌New welfare without work requirements

❌Green New Deal mandates

❌Massive tax hikes

❌Amnesty amid a border crisis

— Leader McConnell (@LeaderMcConnell) August 7, 2021
Democrats are reportedly looking to pass the budget resolution this week after the Senate finishes the bipartisan infrastructure package.