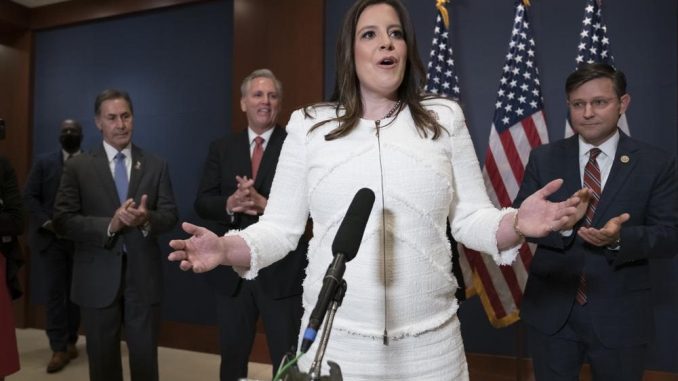 OAN Newsroom
UPDATED 1:45 PM PT – Sunday, August 8, 2021
A local news outlet has been under fire after a reporter and his guest made negative comments about Rep. Elise Stefanik's (R-N.Y.) role as a mother and GOP leader. Late last week, Vermont local reporter Darren Perron spoke with political scientist Harvey Schantz on how Stefanik's pregnancy could hurt her role in the GOP.
The reporter asked digging questions into how her absence would impact the district. Stefanik fired back in a tweet by saying the comments were "a disgrace from two sexist male commentators."
Darren Perron: "In terms of leadership will her absence though, physical absence on Capitol Hill hurt her role in the Republican Party."
Harvey Schantz: "The people in New York 21 will benefit while she's not at full energy on her job by a congressional staff."
Wow.
It's 2021.
This is a real TV clip aired in #NY21 this evening.

A local news station (@wcax ) thinks it's appropriate for two male "journalists / analysts" to question whether a pregnant woman or new mother can effectively legislate in elected office.https://t.co/n8P3TL3L6e

— Elise Stefanik (@EliseStefanik) August 7, 2021
Stefanik went on to demand an apology from the local station and claimed they were the reason women chose to not run for office.