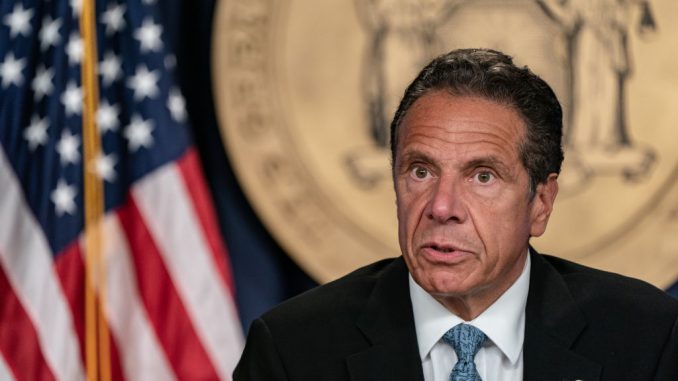 OAN Newsroom
UPDATED 12:30 PM PT – Sunday, August 8, 2021
Authorities in Albany County have opened an investigation into Gov. Andrew Cuomo (D-N.Y.), which stemmed from a criminal complaint filed from a former aid. On Saturday, Sheriff Craig Apple announced the ongoing investigation into the embattled governor after the staffer complained Cuomo groped her at his state residence last year.
"I cannot get into the nature of her specific allegations at this time obviously. We are in the very infant stages of this investigation," Apple explained. "We have a lot of fact-finding to do, we have interviews to conduct and it would be totally premature to comment on any of that."
08/07/2021 I will hold a brief press conference regarding the ACSO taking a compliant containing allegations against the Governor. No reports will be released and details will be limited. Please understand this is an active investigation. Location 16 Eagle st. Albany 12pm.

— Craig D Apple (@CraigDApplesr) August 6, 2021
According to authorities, the Democrat governor could be arrested and face misdemeanor charges if it was determined a crime has been committed. The sheriff said his office has requested investigative material from the state attorney general's office as well as Cuomo's lawyers.
Following multiple investigations, which have stemmed from several allegations, the governor has denied any wrongdoing.
Cuomo went on to say, "I want you to know directly from me that I never touched anyone inappropriately or made any inappropriate sexual advances."
If there was ever a time for a politician to resign as they have become a "distraction from the people's work," then this is it. I can't even gas up my car without multiple people asking me when we're going to be holding @NYGovCuomo accountable! New Yorkers want action & justice!

— Assemblyman Doug Smith (@DougSmithNY) August 8, 2021
This comes as Cuomo has come under fire by his fellow Democrat lawmakers, who have called for him to resign or for his impeachment. However, Cuomo and his lawyer have both maintained the allegations to be false.
"At this point, I'm very comfortable and safe saying that she is, in fact, a victim," Apple stated. "Again, I commend all of them for coming forward. This is a very tough time."
Albany County authorities have yet to provide an estimate on how long the investigation could take. Meanwhile, the state's Assembly's Judiciary committee is expected to meet regarding impeachment proceedings in nearly two thirds of the legislative body said they will favor if the governor does not resign.