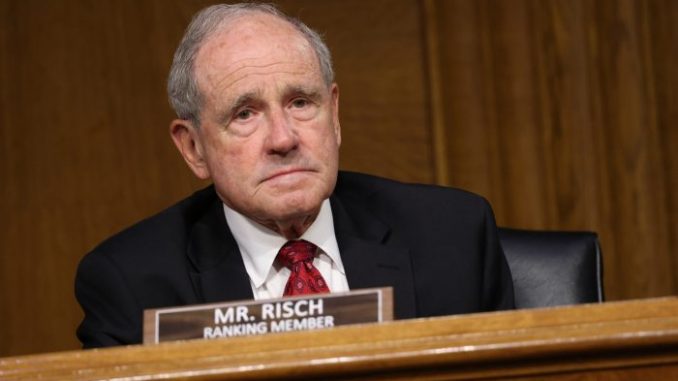 OAN Newsroom
UPDATED 7:37 PM PT – Tuesday, August 3, 2021
Senators have pushed for an official end to policies related to the 2002 Iraq War. On Tuesday, lawmakers in the Senate Foreign Relations Committee held a hearing to discuss the abolition of the Authorization of Use of Military Force, which allowed the Bush administration to send troops to the Middle Eastern country.
Democrats, who have advocated for an outright repeal, said the AUMF was designed as a measure to defend American interests in Iraq and combat threats against the regime headed by Saadam Hussein. The authorization allowed the U.S. to use "any means necessary" to defend U.S. interests and "enforce all relevant" United Nations Security Council resolutions.
However, some Democrats have argued the AUMF has become unnecessary by citing Hussein's execution in 2006.
"The Biden administration has made clear to a formal statement of administration policy that it is not relying on the 2002 AUMF for ongoing operations or detention authority," explained Sen. Bob Menendez (R-N.J.). "Logically, as the terms of the AUMG applied only to threats emanating from Saddam Hussein's Iraq."
The 2002 AUMF is currently the only statutory authority to strike #Iran-backed militias in #Iraq. At today's SFRC hearing, I questioned @DeputySecState on whether a repeal of this authority would have negative, unintended consequences. https://t.co/Qf7AY5PW8O

— Senate Foreign Relations Committee Ranking Member (@SenateForeign) August 3, 2021
Even diplomats in Joe Biden's State Department expressed support of the repeal by saying the order has outlived its usefulness. Deputy Secretary of State Wendy Sherman agreed with Democrats and claimed the move wouldn't effect diplomatic relations with Iraq.
Sherman added there were no ongoing military efforts solely focused on Iraq.
"Our current assessment is that we will not need the 2002 AUMF to protect American interests in the foreseeable future," she stated. "If we do need additional authorities to defend our people, we will not hesitate to come back to Congress to seek those authorities."
However, Republicans in the Senate have urged their Democrat colleagues to take a repeal and replace approach.
Utah Sen. Mitt Romney (R) warned of the rising threats in the region from groups linked to the Taliban, ISIS and the Iranian regime. He warned if repealing the 2002 AUMF resulted in the withdrawal of U.S. troops from Iraq, such as the current drawdown in Afghanistan, there would be a power vacuum where insurgents would take over the country.
Hope is not a strategy—especially when it comes to our national security. Policies the Administration is advancing—like troop withdrawals and drawdowns from the Middle East—have extraordinary potential to be misinterpreted and should be reconsidered. pic.twitter.com/E7j183wNI7

— Senator Mitt Romney (@SenatorRomney) August 3, 2021
In addition, former U.S. ambassador to Japan Sen. Bill Hagerty (R-Tenn.) expressed the same concerns with Iran. He proposed Congress and the Biden administration repeal the 2002 authorization and replace it with an updated measure to combat the modern security concerns American troops have been facing from Iran-backed terrorism.
However, other GOP senators, including Sen. Rand Paul (R-Ky.), said it was time to officially end the war, in which the fighting stopped nearly a decade ago. Paul said AUMFs, such as the one under discussion, took an immense toll on the men and women who serve in the U.S. military.
"People who want to keep it in place have to realize this vote will be similar to the vote in 2002. The vote in 2002 allowed 100,000 troops or more to be in Iraq. It allowed 2,000 of our soldiers to die. It allowed 20,000 people to be wounded," he expressed. "…That's what you are voting for now."
Today I spoke at the Senate Foreign Relations hearing on AUMFs. Congress has a responsibility to not only vote to authorize new military action, but to repeal old authorizations that are no longer necessary. https://t.co/qYN3oamlTB

— Senator Rand Paul (@RandPaul) August 3, 2021
The hearing came after House lawmakers voted to repeal a handful of AUMFs from the Cold War, Operation Desert Storm and the 2002 Iraq War. The push came after Biden ordered air strikes in Syria in February and June of this year without consulting with Congress beforehand.
Lawmakers have been looking to hinder a president's ability to abuse AUMFs, while promoting ways to keep U.S. troops safe.