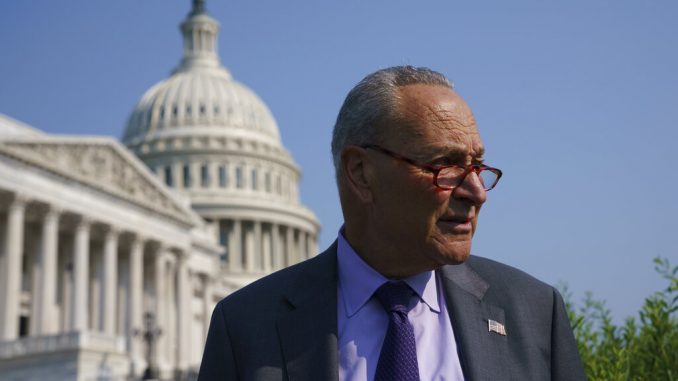 OAN Newsroom
UPDATED 7:04 AM PT – Monday, August 2, 2021
After months of negotiations, lawmakers said they have come to a deal for the nearly $1.2 trillion bipartisan infrastructure bill. The U.S. Senate convened for a session Sunday to work out the final details of the bill after being unable to wrap it up in a session on Saturday.
Senate Majority Leader Chuck Schumer (D-N.Y.) congratulated the members of the bipartisan group while noting they hadn't done a large bipartisan bill "of this nature" in a long time.
"In the end, the bipartisan group of senators have produced a bill that will dedicate substantial resources to repair, maintain and upgrade our nation's physical infrastructure," stated the New York Democrat. "It's been decades…decades since Congress passed such a significant, stand alone investment and u salute the hard work that was done here by everybody."
Schumer also said amendments will be considered for the bill. The $1.2 trillion deal is expected to include funding to major infrastructure such as roads, bridges, broadband, clean drinking water and infrastructure for electric vehicles among other initiatives.
In an interview on CNN's State of the Union, however, Rep. Alexandria Ocasio-Cortez (D-N.Y.) said House Democrats won't approve the bipartisan bill unless the Democrat's partisan $3.5 trillion reconciliation bill is passed as well in the Senate.
"I respect that we have to get Senator Sinema's & Manchin's votes on reconciliation. They should also respect that there's a very tight House margin."

If the Senate doesn't pass reconciliation, funding climate, healthcare & more – then there's no deal. We have the votes. pic.twitter.com/CHz89NdT2t

— Rep. Alexandria Ocasio-Cortez (@RepAOC) August 1, 2021
The Senate would need to first pass a budget resolution before working on a reconciliation bill. The reconciliation bill would reportedly increase spending on education, climate change and child care among other items.
"If there is not a reconciliation bill in the House and if the Senate does not pass the reconciliation bill, we will uphold our end of the bargain and not pass the bipartisan bill until we get all of these investments in," stated Ocasio-Cortez.
However, the reconciliation bill has stirred opposition as some Republicans and Democrats have voiced their concerns over the high price tag. While Senate Minority Leader Mitch McConnell (R-Ky.) believes the bipartisan bill is important, his views differ in relation to Democrat's counter efforts with the separate reconciliation bill.
"This kind of focused compromise that our colleagues have been hashing out could not contrast more sharply with the multi-trillion dollar reckless taxing and spending spree that Democrats hope to ram through on a party-line vote later this year," he stated.
In response to finalizing details on the bipartisan bill, Democrat Sen. Joe Manchin (D-W.Va.) said, "nobody got what they wanted, but everybody got what we needed."
Whether you're a Democrat, Republican or Independent, better infrastructure will create jobs and improve your quality of life – without raising taxes. My statement with 10 bipartisan senators: pic.twitter.com/E3jkkLNMeK

— Senator Joe Manchin (@Sen_JoeManchin) August 2, 2021